614 policemen committed suicide between 2012-14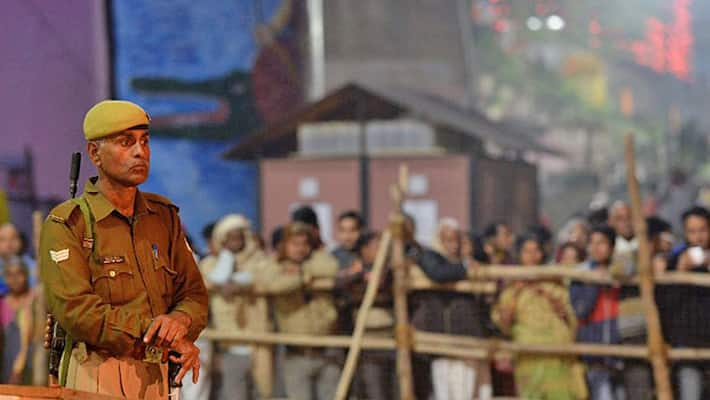 As many as 614 policemen committed suicide in the country between 2012-14 with 40 percent taking the extreme step due to marriage and family problems and only 10 percent due to job-related stress; the government said today.
Minister of State for Home Haribhai Parathibhai Chaudhary informed the Lok Sabha that altogether 214 policemen committed suicide in 2012, 235 policemen in 2013 and 165 policemen in 2014.
"Among the suicide reasons, 25 percent committed suicide due to marriage-related problems, 15 percent for family-related problems and only 10 percent for job-related stress. The suicide rate in the country is just 0.001 per cent," he said during Question Hour.
Chaudhary said a number of steps have been taken to reduce the stress of police and paramilitary personnel that include providing housing, extra allowance, leave, preferred postings after a hard area posting and imparting yoga training, for which the central government keep sending advisories to state governments.
Intervening in the debate, Home Minister Rajnath Singh said there is a need for improving the working conditions of paramilitary personnel.
"We keep sending advisories to state for improving the working conditions of state police personnel. The central government also tells the state governments time to time what kind of steps should be taken for improving the working conditions of the police personnel.
"For personal problems, we have suggested personal counselling of such policemen. There should be more improvement in personal counselling system. Personal counselling should be more effective. We have sent this advisory too. But still we are trying to improve the working condition of police personnel to check such suicide trend," he said.
Singh dismissed the suggestion that only police personnel commit suicide in large scale, saying it is almost same as for the civilians across the country.
Former Mumbai Police Commissioner and BJP member Satyapal Singh said as per police manual, 100 per cent housing should be given to police personnel but most of the state governments could provide just 30 to 50 per cent and they work 12 to 14 hours a day in comparison to eight hours job in normal cases.
Chaudhary said this has been happening as there are large-scale vacancies in police forces, which is around 24 percent in most states.
"There were around 22 lakh vacancies of which 17 lakhs were filled up while around 5.6 lakh posts are yet to be filled. Because of this, policemen have to do longer duty hours," he said.
Chaudhary said when the central government provides funds to states; it keeps telling them that they should provide housing to the policemen and police stations should be good.
"We had sent an advisory in September to fill up the vacancies in police," he said.
Last Updated Mar 31, 2018, 6:50 PM IST