PM Modi's packed schedule ahead of G20 Summit 2023: Bilateral Meetings and Diplomacy
Prime Minister Narendra Modi will fly to Indonesia on Wednesday to attend the 20th ASEAN-India Summit and 18th East Asia Summit on Thursday. Take a look at his schedule.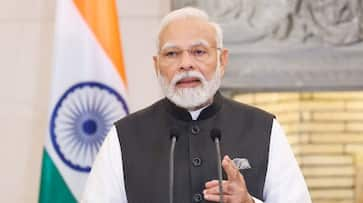 In the lead-up to the much-anticipated G20 Summit 2023 in New Delhi on September 9-10, Prime Minister Narendra Modi's schedule has been packed with crucial meetings and diplomatic engagements. Here's a glimpse into how his three days are shaping up before the summit kicks off:
Day 1 - September 6, 2023
The day commenced with Prime Minister Modi's participation in a meeting of the Council of Ministers. This is an integral part of his responsibilities as the head of government. Following the Council of Ministers meeting, the Prime Minister engaged in a cabinet meeting to discuss and deliberate on important national issues.
PM Modi's schedule was brimming with back-to-back meetings throughout the day. These engagements are crucial in addressing a wide range of matters, both domestic and international. At 8:00 PM IST, Prime Minister Modi will leave for Jakarta, Indonesia. This journey marks the beginning of his crucial diplomatic mission.
Day 2- September 7, 2023
The Prime Minister will spend around 7 hours in flight before arriving in Jakarta at 3:00 AM IST on September 7th. Starting his day at 7:00 AM IST, PM Modi will attend the ASEAN India Summit, a pivotal platform for discussing regional cooperation and partnerships.
At 8:45 AM IST, the Prime Minister will actively participated in the East Asia Summit, which focuses on broader strategic and security issues in the Asia-Pacific region. Following the meetings, Prime Minister Modi will swiftly depart for the airport and board a flight back to Delhi at 11:45 AM IST. He is expected to touch down in the Indian capital at approximately 6:45 PM IST.
Day 3 - September 8, 2023
On the final day before the G20 Summit, Prime Minister Modi is scheduled to hold crucial bilateral meetings with leaders from three countries. One of the most anticipated meetings is with US President Joe Biden, underscoring the significance of India-USA relations on the global stage.
Last Updated Sep 6, 2023, 6:57 PM IST