Passenger alert: Automated baggage machines at KIA will not allow you to carry extra luggage; Here's why
Kempegowda International Airport in Bengaluru enforces a strict 15-kilogram baggage limit with no tolerance for even 100 grams of excess weight due to automated baggage drop machines. Travellers are cautioned after a passenger had her luggage rejected for being slightly overweight, emphasizing the importance of adhering to the stringent baggage policy.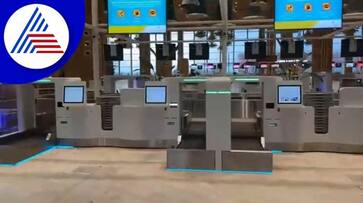 At Kempegowda International Airport in Bengaluru, travellers are facing a stringent baggage policy that leaves no room for even a 100-gram margin. The reason behind this strict measure is the installation of automated baggage drop machines at the airport, which are designed to be unforgiving of any excess weight.
Just last week, a passenger travelling from Bengaluru to Delhi had her luggage rejected at the airport. The issue was not just about a minor excess; her baggage exceeded the permissible weight limit by a mere 100 grams. This incident serves as a stark warning to all travellers using Bengaluru Airport in the future.

Bengaluru: Why is Central Silk Board flyover being closed for four months?
The automated baggage drop machines, which have been deployed at Terminal 1 of Kempegowda International Airport, strictly enforce the weight limit for each passenger's checked-in luggage. In this case, the limit stands at 15 kilograms. If your luggage tips the scales at even 100 grams over this limit, it will be outright rejected.
The traveler in question attempted to redistribute the extra 100 grams of weight by transferring it to the baggage of her two friends, who were well within the prescribed weight limit. However, the airline staff, citing the strict rules of the Automatic Bag Drop Machines, refused to accommodate this request. Each passenger's bags must independently adhere to the 15-kilogram limit, without allowance for weight-sharing among travellers.

Technical glitch delays shifting of international flights to Bengaluru Airport Terminal 2
This strict enforcement of baggage weight limits is a result of a government amendment made in September 2020, allowing airlines to set their baggage policies according to their internal practices. As a consequence, many major airlines are now implementing a uniform 15-kilogram limit for checked-in luggage. Any excess baggage beyond this limit usually incurs additional charges for passengers.
Kempegowda Airport's Terminal 1 primarily handles domestic flights, while Terminal 2, recently launched, is dedicated to international flights along with domestic services from airlines like AirAsia, Air India, Star Air, and Vistara. Termed as the "Terminal in the Park," Terminal 2 was inaugurated by Prime Minister Narendra Modi in November 2022, with an estimated construction cost of around Rs 5,000 crore. Domestic operations at Terminal 2 commenced in January of 2023.
Last Updated Oct 21, 2023, 10:19 AM IST