Padarayanapura: 54 arrested for inciting violence, more forces including Garuda deployed in Bengaluru
JJ Nagar Police on Monday arrested 59 people from Padarayanapura in Bengaluru for assaulting police officials and vandalising government property late at night on Sunday. The mob pelted stones at the police and ASHA workers while they were on duty and had gone there to bring 58 people, who were suspected of being COVID-19 positive, to be put in quarantine.
Bengaluru: Hours after violent mobs attacked healthcare workers and police in Bengaluru's Padarayanapura on Monday, as many as 54 people were arrested. According to police, one among the arrested is a woman by name Firoza who had allegedly instigated the mob to attack the health and police officials. 
"Fifty-nine people have been arrested (in Padarayanapura) and have been taken into custody. The people attacked the officials who had gone to quarantine some people who were the primary and secondary contacts of three COVID-19 patients," a police officer said.
"
Later in the evening, the area turned into garrison with hundreds of policemen, including gun-wielding Garuda force personnel, stationed at vantage points across the ward. Fifteen platoons from the Karnataka State Reserve Police and City Armed Reserve have been deployed in the area, beside over 500 from Bengaluru City Police. Police are on the lookout for other suspects.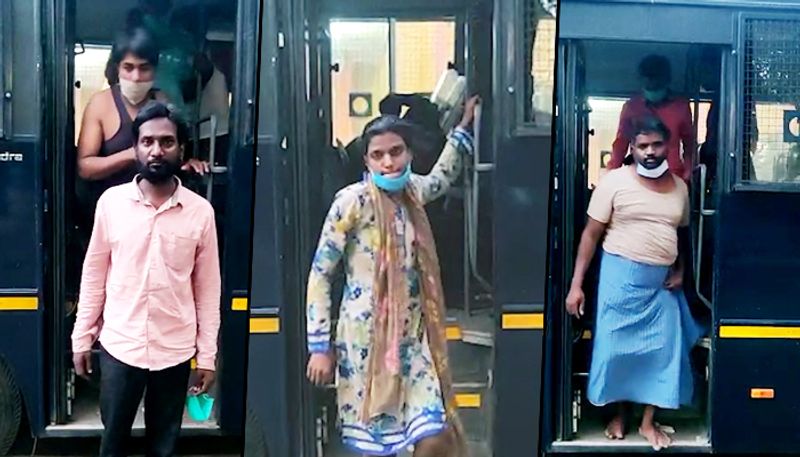 The 54 accused now face criminal cases. Soumendu Mukherji, additional commissioner (West), has been appointed to investigate the trigger for the violence. Police have registered cases under several IPC sections including 143 (unlawful assembly), 506 (criminal intimidation), 148 (rioting), 323 (causing harm), 353 (deterring a public servant from discharging duty), and a few sections under Prevention of Destruction and Loss of Property Act.
Taking this incident as a precedent, Karnataka CM Yediyurappa gave the police force in the state a free hand and allowed them to use 'any powers required' to deal with those objecting to health workers and police officials performing their duty.
Last Updated Apr 21, 2020, 10:37 AM IST