Onion prices might see a slight dip with new load arriving in Bengaluru
New load of onions arrived in Bengaluru from Egypt, Maharashtra and other parts of Karnataka leading to a slight reduction in prices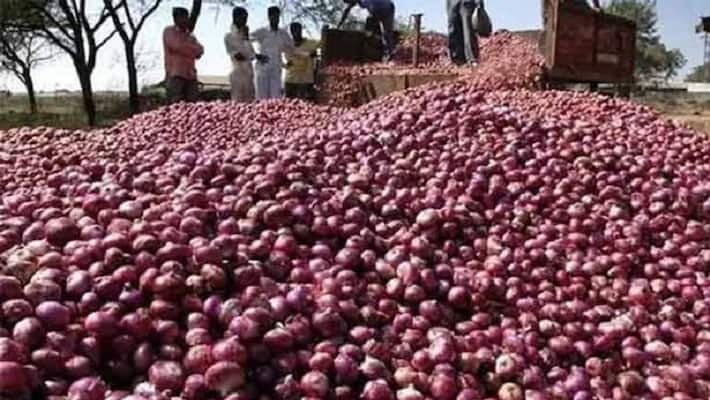 Bengaluru: New load of onions from Maharashtra and other parts of Karnataka has brought some respite among consumers with the prices going down by a slight margin. Onion prices are set to come down, thanks to 280 truckloads of the produce landing in the city on Monday.
In spite of the supply of onions from Turkey and Egypt last week, the price of onions had not reduced in the domestic market. But this time, with imports from Egypt and the new loads from Maharashtra and other parts of Karnataka, quintals of onions reached Yeshwanthpur APMC yard on Monday.
One quintal of onions cost Rs 10,000 to Rs 14,000 on Saturday. However, with the new load, one quintal of onions ranged between Rs 6,000 to Rs 12,000. The arrival of about 30 lakh kg of the vegetable saw its wholesale price plunge by Rs 20 to Rs 90-120 per kg on Monday.
Around 60,000 bags of 50 kg onions arrived at 9 am on Monday, of which 57,000 bags arrived from different parts of Karnataka like Bagalkot, Gadag, Bijapur and Chitradurga. The rest of the consignment came from Rajasthan and Gujarat.
A couple of trucks also brought in onions imported from Egypt and Turkey by a private agency. According to reports, more onions are likely to arrive from Solapur in Maharashtra on Tuesday. However, it may take some time before retail prices see a drastic dip.
"Old stock of onions from Maharashtra is in good shape and have arrived in the city. But the recent stock from various parts of Karnataka are not too good. The load being moist, there are chances of onions rotting. Hence, the retail prices of onions might not dip until January," said an onion trader Uday Shankar.  
Last Updated Dec 10, 2019, 1:39 PM IST