Oil companies hold roadshow in Bengaluru to highlight benefits of compressed biogas
A road show was held on Monday in Bengaluru to create awareness about the benefits of compressed biogas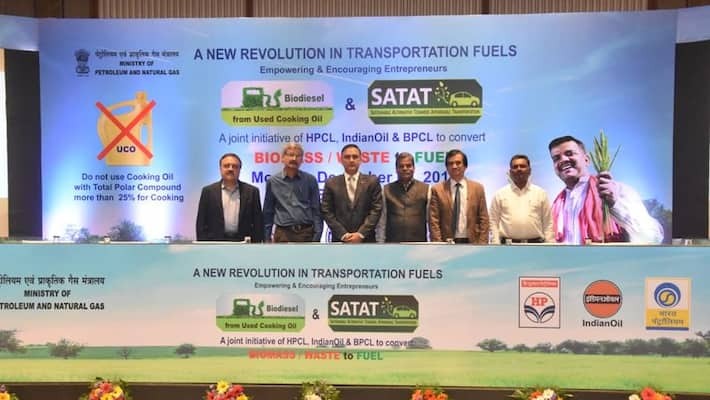 Bengaluru: Public sector oil marketing companies (OMCs) such as HPCL, IOCL, and BPCL organised a road show on Monday (December 2) in Bengaluru.
The roadshow's motive was to create awareness about the initiatives by OMCs through SATAT (Sustainable Alternative Towards Affordable Transportation) and Biodiesel (based on UCO — Used Cooking Oil) and sensitise stakeholders to participate in the said initiative.
The roadshow was graced by Vijay Sharma, director in the ministry of petroleum and natural gas, YB Ramakrishna, member of the working group on biofuels, DK Pattanaik, executive director of gas and renewables, HPCL, Subodh Batra, executive director of operations and distribution in HPCL, Manoj Kumar Shukla, managing director of Karnataka State Bioenergy Development Board and various other stakeholders.
Union minister of petroleum and natural gas and steel Dharmendra Pradhan had launched a transformational initiative titled SATAT on October 1, 2018 in New Delhi with an aim to revolutionise transport sector by introducing compressed biogas (CBG).
SATAT envisions to establish 5,000 CBG plants across the country with an estimated CBG production of 15 MMT per annum by 2023. SATAT initiative also complements other initiatives such as Swatch Bharat Abhiyan and Make in India, promoted by Government of India.
The guests at the roadshow spoke about multiple benefits of CBG introduction in transport sector such as waste management, reduction in carbon emissions, additional revenue source for farmers, boost to entrepreneurship and rural economy by the way of generating employment opportunities.
One of the guests emphasised that promoting CBG in transport sector would strengthen Indian economy against the shocks of fluctuating crude oil and gas prices.
The roadshow was attended by prospective entrepreneurs, sugar industries' representatives, technology providers, officials from oil and gas marketing companies.
An interactive platform was provided for various stakeholders while addressing the queries of the participants in relation to setting up of CBG and biodiesel projects.
Last Updated Dec 3, 2019, 6:25 PM IST