Nobel Prize in Literature 2023: Salman Rushdie, Lyudmila Ulitskaya in contention for prestigious award? Read
As the Swedish academy of Nobel prize is preparing to announce this award in Literature, literary circles are buzzing with rumour mills betting on who would take the prestigious prize home. Salman Rushdie, best known for his controversial 'The Satanic Verses' and Russian author Lyudmila Ulitskaya are two names that's going round and speculation is rife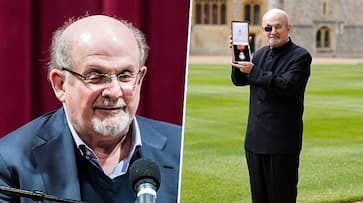 As anticipation mounts just days before the Swedish Academy's announcement of the Nobel Prize in Literature for 2023, the world eagerly awaits to celebrate the mastery of words, human experiences, and the profound musings that surround them. While the academy keeps the nominees a closely guarded secret, speculation is rife regarding the potential laureates.
Here's a video of last year's announcement of the prize being given to Annie Ernaux.
One of the prominent figures believed to be in contention for the Nobel Prize in Literature is Russian author Lyudmila Ulitskaya, an outspoken critic of the Kremlin. Known for her novels that delve into the intricacies of personal relationships, Ulitskaya was born in Davlekanovo, Russia, in 1943, and spent her formative years in Moscow. Her academic journey began in the field of biology at Moscow State University, but her passion for literature led her to join a Jewish drama theater, marking the start of her literary career.
In 1992, Ulitskaya made her literary debut with the novel "Sonechka," published in Novy Mir, instantly capturing the hearts of readers and critics alike. Over the years, she has received numerous international and Russian literary awards, including the prestigious Russian Booker Prize for her book "Kukotsky's Case" in 2001. In 2014, she was honored with the Austrian State Prize for European Literature.
Another name making waves in Nobel Prize speculations is Salman Rushdie, a literary giant with a substantial body of work. Rushdie's journey has been marked by controversy, particularly surrounding his novel "The Satanic Verses," which led to assassination appeals by Islamic countries like Iran. His literary pursuits have often been intertwined with political angles in the eyes of the public. Last year, Rushdie survived a stabbing attack that resulted in the loss of one of his eyes.
Furthermore, there is a possibility that the Swedish Academy may recognize Can Xue, a Chinese avant-garde fiction writer and literary critic. Can Xue is known for her predominantly short fiction works, which represent a departure from the realism commonly associated with earlier generations of Chinese writers.
The speculation doesn't end there. Additional names circulating as potential Nobel laureates include Romanian author Mircea Cartarescu, Hungarian writers Peter Nadas and Laszlo Krasznahorkai, Albania's Ismail Kadare, Kenyan literary luminary Ngugi wa Thiong'o, and Canada's celebrated novelist Margaret Atwood.
The Swedish Academy is set to announce the winner on 5th October, 1 PM CEST (Central European Summer time) that is 4.30 PM Indian Standard Time.
Last Updated Oct 4, 2023, 8:42 AM IST