New Parliament: 10 women MPs share memories of old building
Women parliamentarians from diverse political backgrounds pay homage to the old Parliament building. Through handwritten notes, they reflect on their experiences and memories, bidding farewell to the iconic structure that has played a central role in India's democratic journey.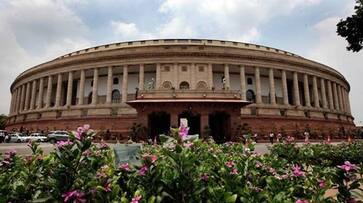 For the first time since India's independence, the country's legislature is preparing to relocate to a new complex during a special Parliament session. As a tribute to the legacy of the old building, ten women parliamentarians from various political backgrounds shared their experiences and memories, bidding farewell to the structure that has been at the heart of India's democratic journey.
These ten parliamentarians have expressed their nostalgia and sentiments about their journeys within the historic halls of the old Parliament building through handwritten notes.
Union Minister and Bharatiya Janata Party (BJP) MP Smriti Irani conveyed her "best wishes" in her note, while Shiv Sena (UBT) MP Priyanka Chaturvedi described the intense debates and disruptions witnessed by this historically beautiful building.
"This Parliament has hosted stalwarts and history-makers, shaping 75 years of our journey as a confident nation. I am proud to be part of this journey and hope the essence of this Parliament continues in the new building," Priyanka Chaturvedi wrote in her note.
Akali Dal MP Harsimrat Kaur Badal shared her journey, from being an "awed visitor" to the Parliament building in 2006 to becoming an MP in 2009 and subsequently a minister in 2014. She noted, "These 144 pillars in this temple of democracy hold a multitude of memories for me. This beautiful building, adorned with the history and craftsmanship of thousands of Indian artists, sculptors, and labourers, has been a place of intense learning and immense satisfaction."
Similarly, Union Minister and Apna Dal (S) MP Anupriya Patel recalled her first steps into Sansad Bhavan. "I could feel deep within that I am entering a historic building, which saw India gaining its Independence on 15 August 1947, the framing of our Constitution, and the evolution and strengthening of our country's democratic institutions," she said.
Independent MP Navneet Rana wrote about her first day entering the building and the subsequent days that provided her with the "opportunity to learn a lot of things."
Nationalist Congress Party (NCP) MP Supriya Sule expressed her gratitude to the electorate in her constituency for allowing her to attend sessions in the beautiful old Parliament building. She wrote, "Blessed and grateful to the people of Maharashtra and Baramati for giving me the opportunity to be part of the largest democracy in the world and attend sessions in the old beautiful Parliament building -- a place that echoes the voices of the leaders who contributed to the development of our beautiful country."
BJP MP Poonam Mahajan expressed her thoughts poetically, saying, "Antim jay ka vajra banane, Nav Dadhichi haddiyan galaayein. Aao phir se diya jalaayein."
Highlighting the historical significance, Congress MP Ramya Haridas called the building a "palace of democracy" and the "birthplace of strong decisions."
Trinamool Congress (TMC) MP Mahua Moitra expressed her special connection to the old Parliament building, saying it will always hold a "special place in my heart" and equating it with her "first home". She added, "The building may change, but its symbolism -- a free space for freely elected representatives of a free country -- is what is incumbent upon us all to preserve intact."
Rajya Sabha MP and legendary sprinter PT Usha recalled her first visit to the Parliament in 1986 after winning a gold medal in the Seoul Asian Games. She also reminisced about stepping into the Upper House as a member in 2022, writing, "First time in my life I stepped into the Rajya Sabha with my right leg, touched the step with my right hand and chanted 'Hari Om' on my lips."
Last Updated Sep 18, 2023, 9:24 AM IST