Meet Chennai's Shanmuga Subramanian, who located Vikram Lander's debris on moon
Shanmuga Subramanian, an engineer by profession, said that he had spent over eight to 10 hours each day thoroughly combing through images released by NASA before and after the impact to locate a needle in a haystack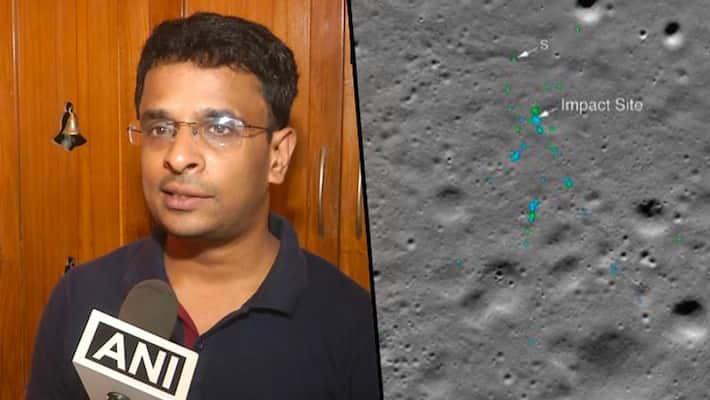 Chennai: Chennai-based amateur astronomer Shanmuga Subramanian spotted something "out of the ordinary" in images released by NASA that led to locate debris on the surface of the Moon of ISRO's Vikram Lander of its Chandrayaan-2 mission.
On Tuesday (December 3), Subramanian tweeted about a mail he received from American space agency National Aeronautics and Space Administration (NASA) thanking him for helping them locate the crash site.
"
NASA, on Tuesday, announced that its moon mission has discovered the remains of Vikram Lander and identified the debris spotted by Subramanian with an "S" on its image. The wreckage was found about 750 meters northwest of the main crash site.
Subramanian, an engineer by profession, says he spent over eight to 10 hours each day painstakingly combing through images released by NASA before and after the impact to locate a needle in a haystack.
He downloaded the image released by NASA of Lunar Reconnaissance Orbiter (LRO) Camera, showing the site's changes on the moon and the impact point before and after the spacecraft had made a hard-landing on the lunar surface. Subramanian then compared the image with old and new images. When he spotted something "out of the ordinary" that very moment, he said he knew that he had spotted something big.
He tweeted to NASA about his findings on October 3.
"NASA publicised images on their blog on September 17 and after looking at NASA's blog and NASA statement that they were not able to find (Vikram Lander) it because it is hidden in shadows. I downloaded 1.5 GB image on the system, and I compared it side by side with old image and new image of LRO, and I was able to find something that was out of the ordinary in a particular spot then I thought this might be the debris because that was something that was not seen in the spot," Subramanian said.
"I tweeted out to them (NASA) on October 3rd and sent a mail to them on October 18. I got their confirmation on December 3. I was elated to receive their confirmation. I was spending something 8-10 hours each day for four to five hours on that. I stopped my research after I sent the tweet because I knew that this might be the probable debris," he added.
Last Updated Dec 3, 2019, 5:12 PM IST