Google doodle pays tribute to cartoonist Mario Miranda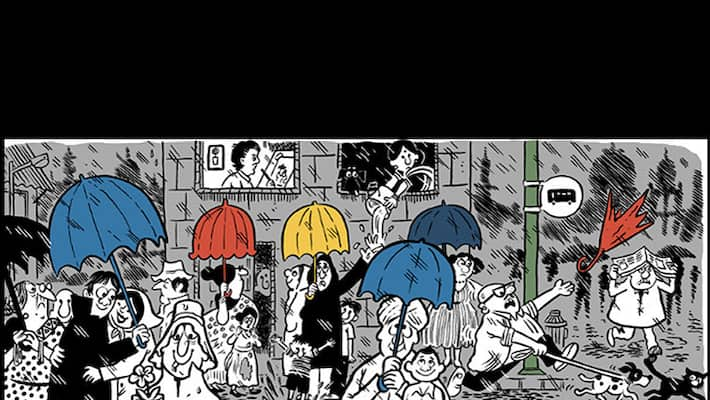 On Monday morning, we all woke up to Google's adorable tribute to Mario Miranda, one of the most celebrated cartoonists India has ever seen, marking his 90th birth anniversary. The person behind the commemorative doodle is artist Aaron Renier, who is known for portraying large crowds in his works.
Renier tweeted his tribute, asking his followers to check out the doodle he sketched for Google to honour the birth anniversary of his inspiration. 
What made this Padmashri and Padma Vibhushan awardee stand out was his trademark stylish strokes which spoke detailed colourful stories with shades of humour, primarily based on common man's life in Mumbai and Goa.
The doodle, according to Renier shows a rainstorm scene in crowded Mumbai, depicting people from different walks of life spicing up their routine on a typical rainy day."I approached Mario's work by pretending I was sketching with him. I chose his most favourite style- very flat with crisscrossing interactions,"he said. 
 He further added "in this homage to Miranda, we see people struggling with their umbrellas, lovers hugging and enjoying the rain, while a dog is seen chasing a stray cat and dragging his master on the leash. Also, on the left side appears an image resembling Miranda himself struggling with his next creation on the canvas."
Miranda left a rich treasure of cartoons, sketches, pictorial travelogues on famous cities like London and Lisbon, an illustrated book on history of Goa co-authored with Manohar Mulgaonkar. The Goan artist who is also popularly known for his works published in The Times of India and the Illustrated Weekly of India, passed away in 2011 at his home in Goa. 
Last Updated Mar 31, 2018, 6:40 PM IST