Man throws money off Bengaluru flyover, sparks frenzy and a manhunt
A man brought vehicles on a flyover in Bengaluru to a standstill after he threw money at people and on the crowd below in a busy market area of the city. Watch the video here.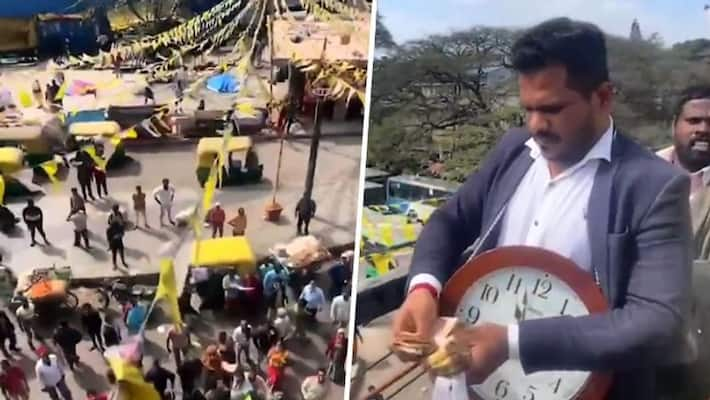 Traffic came to a screeching halt in Bengaluru today when a man stood on a flyover and threw fistfuls of currency notes down on the road below.  On January 24, many recordings of the peculiar event began to go viral on social media. The video depicts a man wearing a suit and wearing a wall clock cutout around his neck. He enters the flyover, looks down at the people below, and then starts throwing fistfuls of money to them.
Also Read | DGCA imposes Rs 10 lakh penalty on Air India for 'hiding' another pee incident; check details
In another video, a sizable throng is seen assembling there to take the money. The man was surrounded by others on the flyover who pressed him for more cash. A large crowd also gathered below the flyover at KR market near city's town hall to pick up the cash.
The currency notes were of Rs 10 denomination. He reportedly threw around notes worth Rs  3,000, according to people who were in the area at the time of the incident.
It isn't clear who the person was and why he disposed of the money. By the time a police unit arrived, the man had apparently left the area. Police have opened an investigation by filing a complaint alleging that a law and order issue was caused.
Also Read | BharOS: Union ministers test 'Made in India' mobile operating system developed by IIT Madras
Last Updated Jan 24, 2023, 5:29 PM IST