Loud noise in Bengaluru: Speculations point to fighter jet or cloud explosion
Karnataka State Natural Disaster Monitoring Cell (KSNDMC) officials had ruled out the occurrence of an earthquake in Bengaluru as cause for the incident/phenomenon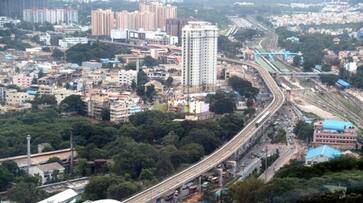 Bengaluru: Several residents of Bengaluru on Wednesday (May 20), reported hearing a loud boom in the eastern parts of the city around 1.30pm. On social media, several people reported hearing a boom and a thunderous noise, while some claimed they felt tremors and windows rattling.
Soon after, Bengaluru Police commissioner Bhaskar Rao issued a statement, "No damage reported anywhere. We also got information by the media, the sound was heard from the international airport to Hebbagodi, Bengaluru. No calls to 100 till now of any damage," he said.
A similar statement was issued by MN Anucheth, deputy commissioner of police, Whitefield. "A booming sound heard across eastern Bengaluru from International airport, Kalyan Nagar, MG road, Marathahalli, Whitefield, Sarjapur, Electronic city right up to Hebbagodi. We are trying to ascertain the source of the noise. In Whitefield area, we have searched on ground and so far, there is no damage to anything," he said.
He added that this can be a sound created by a supersonic plane.
Although many people wondered whether the sound was caused by an earthquake, as windows and structures in houses vibrated, this was ruled out by the authorities. Srinivas Reddy, director of the Karnataka State Natural Disaster Monitoring Centre (KSNDMC), informed that their sensors have not recorded any earthquake activity.
The activity reported in Bengaluru is not due to an earthquake. The seismometers did not capture any ground vibration as generally happens during a mild tremor. The activity is purely a loud unknown noise, said Jagadeesh, official at KSNDMC.
Many people also speculated that it was a sonic boom created by a supersonic fighter jet of Indian Air Force. Several people also said that it was created by a Mirage 2000, and informed that the jets have been flying over the area since morning today.
However, Dr Prakash from Natural Disaster team explained that it is the likely effect of heavy vacuum created and sudden entry of cyclonic wind (created by Amphan between hot and cold airs, which has happened last year too). 
He confirmed that it is not an earthquake and there no need to panic.
Meanwhile, HAL speculates that the loud noise might be caused due to Sukhoi 30 fighter jet. The officials said the sound was heard while the fighter jet was taking off at 90-degree at the HAL airport runway.
They also stated that the sound of such decibels can be heard upto 10 km radius.
A HAL source said, "There are a lot of speculations as people have many versions. Sukhoi 30 had taken off from our airport at 1.15 pm, but we can't link the sound with it. The way people have described the sound doesn't seem to fit because when fighters break the sound barrier, such huge explosion kind of sound is created. But we are not sure, if this sound was because of that. This fighter jet was flown by the Indian Air Force, not the HAL."
Last Updated May 20, 2020, 6:20 PM IST