Kerala to receive heavy rainfall with thunderstorms today: IMD
The IMD has predicted heavy rainfall in Kerala today (Oct 25). The weather department also predicted a possibility of rain with thunderstorms in the afternoon.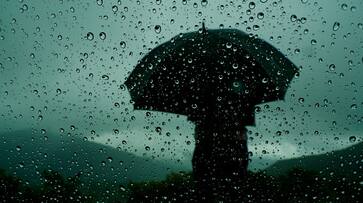 Thiruvananthapuram: The India Meteorological Department (IMD) has predicted that there is a possibility of heavy rain in isolated places in the state today. However, there is no special rain warning in any district. Similar to the previous days, there is a possibility of rain with thunder in the afternoon. The IMD has informed that there is a possibility of high waves and there will be no ban on fishing on the Kerala coast.
According to the latest radar image, there is a possibility of moderate rain with thunder and lightning at isolated places in Alappuzha and Kottayam districts in the next three hours and strong winds with a speed of up to 40 kmph. Meanwhile, the intensity of Cyclone Hamoon in the Bay of Bengal has decreased. The IMD also said that the cyclone will make landfall on the Bangladesh coast in the next few hours.
Meanwhile, two shutters of the Kallar Dam in Idukki were raised by 10 cms each. The water level in the dam has risen due to heavy rainfall till night in the catchment areas. The current water level is 823.7 meters and the maximum storage capacity is 824.48 meters.
Indian National Centre for Ocean Information Services (INCOIS) has informed that the Kerala Coast (Vizhinjam to Kasaragod) and South Tamil Nadu Coast (Kolachal to Kilakarai) are likely to experience 1.2 to 1.8 meter high waves and storm surge till 11.30 pm on 25-10-2023 (tomorrow). Fishermen and coastal residents should be cautious.
Last Updated Oct 25, 2023, 9:42 AM IST