Kerala: Second Vande Bharat Express likely to begin from September 24
The re-designed rake of Vande Bharat Express is likely to begin plying in Kerala from September 24. This is the second Vande Bharat Express for the state allotted after a public demand.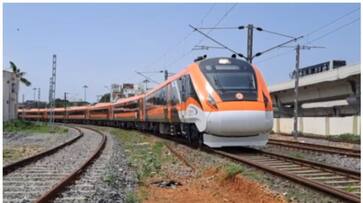 Palakkad: The second Vande Bharat Express allotted to Kerala as an Onam gift is likely to be operational from September 24. The semi-high-speed train will operate between Kasaragod and Thiruvananthapuram via Alappuzha. According to reports, the journey will commence from Kasaragod at 7.00 a.m. and will reach Thiruvananthapuram at 3:05 p.m. The return journey will commence from Thiruvananthapuram at 4.05 pm and reach Kasaragod at 11:55 pm.
The train will be operational six days a week. The Railways is considering launching a total of 9 Vande Bharat Express trains together and if sources are to be believed Prime Minister Narendra Modi will flag off the trains online. The latest rake with a new colour and design will be operating in Kerala.
Recently, senior Southern Railway representatives travelled to Kasaragod and Mangalore Central to review the service's arrangements.
The upcoming Vande Bharat Express will have a greater seat reclining angle, better seat padding, easier access to mobile charging stations, longer footrests in executive chair cars, deeper washbasins to prevent water splashing, and better lighting in the restrooms. It will also have wheelchair mounting points for specially-abled passengers in the driving trailer coaches, a change from resistive touch to capacitive touch for the reading lamp's touch to make it easier to use, better roller blind fabric and an anti-climbing device for increased safety. 
The current Vande Bharat services operate between Kasaragod and Thiruvananthapuram via Kottayam. There were earlier reports that Kerala might have its second Vande Bharat train during the Onam season. BJP leaders in the state made a similar claim, and it is now a fact. In Chennai, the loco pilots also received the necessary training.
Last Updated Sep 20, 2023, 9:13 AM IST