Kerala Rain: Chances of heavy rainfall today; IMD issues orange alert in 5 districts
Heavy rain will continue in the state today (Sep 30). The India Meteorological Department( IMD) has issued orange alert to 5 districts including Thiruvananthapuram, Kollam, Pathanamthitta, Alappuzha and Ernakulam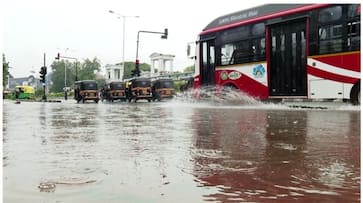 Thiruvananthapuram: Heavy rain will continue in the state today (Sep 30). The India Meteorological Department( IMD) has issued orange alert to 5 districts including Thiruvananthapuram, Kollam, Pathanamthitta, Alappuzha and Ernakulam
The IMD has also issued a yellow alert to 10 districts, including Alappuzha, Ernakulam, Idukki, Thrissur, Palakkad, Malappuram, Kozhikode, Wayanad, Kannur, and Kasaragod.
Quarrying and mining operations in Thiruvananthapuram district, except for essential services to coastal regions, have been banned due to heavy rains. Thiruvananthapuram District Collector Geromic George informed that the ban will continue until further notice. The ban comes as heavy rains continue in the district, and an orange alert was announced on Friday.
The IMD said that rains will continue in the state with the formation of low pressure in the Arabian Sea and Bay of Bengal. A depression has formed in the central-east Arabian Sea off the Konkan-Goa coast. Moderate to heavy rainfall is likely to continue in Kerala for the next five days. The IMD also informed that isolated heavy rain is possible till October 1.
Precautionary Guidelines:
Lightening strikes can lead to various health risks. It may cause damage to both living and non-living things. So, please read out these security measures to ensure the safety of your belongings and your loved ones.
1. If you notice the sign of lightning, seek shelter immediately in a safe building. Avoid staying outdoors, especially in exposed areas.
2. Stay away from windows during lightening.
3. Disconnect electronic appliances to prevent any electrical hazards.
4. Avoid using mobile phones, and laptops to avoid electric shocks.
5. If there are any trees near you, just stay away from them.
6. If you need to travel, just avoid traveling through flooded areas. If you are travelling by bike, the car just park your vehicle nearby in a safe area
7. Avoid swimming during rainfall as there may be hidden dangers in water.
8. Avoid shipping, and boating in the sea while lightening. Try to reach out to shores as soon as the climate changes
9. Try to avoid bathing at this time. Electric shocks may travel through the pipes attached to your homes.
10. To ensure the safety of electrical hazards, lightning protection systems can be installed on buildings. 
Last Updated Sep 30, 2023, 1:39 PM IST