Kerala police to close flight scuffle case against LDF leader EP Jayarajan; Youth Congress to approach court
The Kerala police have given a clean chit to LDF leader EP Jayarajan in the flight scuffle case on Thursday (June 8). Following this, the Youth Congress worker Farseen Majeed told Asianet News that this development was expected and that they will approach the court.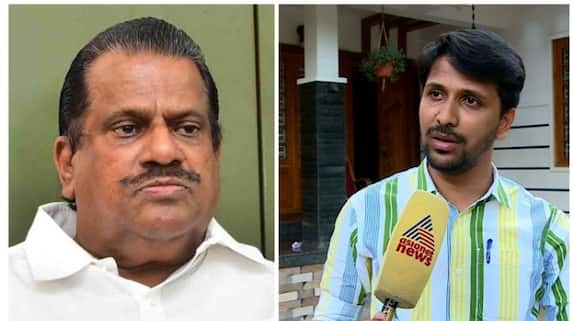 Thiruvananthapuram: The Valiyathura Police has written off the case against LDF convenor EP Jayarajan in which Youth Congress leaders alleged that the former attacked them inside a flight.
 Kerala MVD in trouble: AI camera detects over 1 lakh traffic violations; Only 3000 notices sent so far
The case-related incident took place in June 2022. In an Indigo aircraft, two Youth Congress members protesting against Chief Minister Pinarayi Vijayan got into a fight with Jayarajan in Thiruvananthapuram. Later, the two Youth Congress workers filed a police report accusing Jayarajan of assaulting them. Later, police detained the leaders of the Youth Congress. Due to a complaint made by the Chief Minister's office, a case was filed against them.
Meanwhile, Youth Congress worker Farseen Majeed told Asianet News that the police investigation was conducted by concealing the evidence and that the report will be challenged in court.
Farseen said, "It was certain that the police would sabotage the investigation. EP Jayarajan and the gunman of CM Pinarayi Vijayan attacked us. The police conducted an investigation by concealing the video evidence. Therefore, we will approach the court against the police report. The visuals of the attack and the hospital record will be produced in the court."
He added that he has faith in the judiciary.
Under the categories of attempted murder, conspiracy, and gang assault, the police filed a complaint against EP Jayarajan, the gunman of the chief minister, Anilkumar, and PA Suneesh. Under the Aircraft Act, no charges were filed in the case. The investigation by the police is over with this case. According to the police report, when the protesters approached the Chief Minister, they just stopped them; therefore, the intrusion allegation is invalid.
After over a year, there has been a new development in this case. The assertions made in the complaints are pointless, according to the report the police gave to the court on Thursday. The complainants have also received notices from the police regarding the matter. The letters stated that if there were any objections to the report, complainants might approach the court within a week.
In the meantime, Indigo had banned Jayarajan and two Youth Congress employees from travelling with the airline for three weeks and two weeks, respectively, due to the altercation on board the flight.
Last Updated Jun 9, 2023, 12:50 PM IST