Kerala: Drug controller intensifies investigation in rare kidney disease
: The Malappuram District Drugs Controller Division has intensified its investigation into the incident of kidney failure due to the use of fake cosmetic products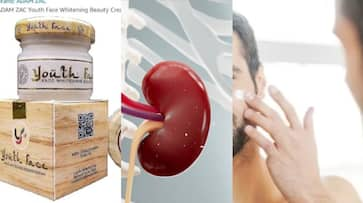 Malappuram: The Malappuram District Drugs Controller Division has intensified its investigation into the incident of kidney failure due to the use of fake cosmetic products. The drug controller informed us that the creams coming into the market do not have an exact manufacturing address or quality, and they are conducting inspections in different parts of Malappuram district, and many fake packets have been seized. The District Medical Officer has also infor that an investigation has started regarding this matter.
Around 11 people who used skin whitening creams were diagnosed with kidney disease. It was found that the 14-year-old girl, who was in critical condition, was continuously using this cream. The head of the medical department of a private hospital in Kottakal found that people who came with similar symptoms were also using this cream. 
The nephrology department of Aster Mims Hospital, Kottakal, found that some beauty creams can cause kidney disease. A rare kidney disease called membranous nephropathy has been found in patients, including men and women, who used high-dose metal whitening creams.
Many people were found to be using skin-whitening creams that contained a lot of harmful metals. The problem came to light when a 14-year-old girl got very sick, and her doctors discovered that she had been using one of these creams. Firstly, the doctors were not able to discover the reason for this disease, however later the girl's relative also sought medical help with the same symptoms
Both of them tested positive for NELL-1 MN. It was found that both of them had been using the same fairness cream for two months. Sajeesh Shivdas and Dr. Ranjith Narayanan, senior nephrologists of Aster Mims, Kottakal, instructed all the patients who sought treatment with similar symptoms to be called and advised to revisit. It was found that eight of them used fairness face cream. The samples of the patients and fairness cream will be tested for further investigation.
Last Updated Oct 12, 2023, 10:31 AM IST