Karnataka's former minister DK Shivakumar seeks divine intervention, makes another run to temple
Karnataka Congress leader DK Shivakumar was accorded grand welcome at Mysuru railway station. His visit to the temple there turned out to be a spectacle of sorts. Was it a deliberate show of strength?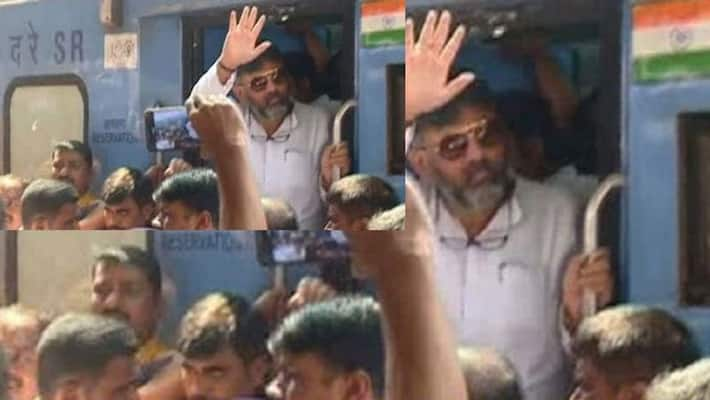 Mysuru: Former Karnataka minister DK Shivakumar, who is on a temple run, reached Mysuru by train and was given a rousing welcome by his supporters and fans. 
The sounds of drums and dollu kunitha welcomed DK Shivakumar to the heritage city as he continued his temple run after walking out of jail. After his bail, DK Shivakumar has been visiting temples in Bengaluru and Ramanagara and today he landed in Mysuru to continue his temple run. The trip is also meant for him to seek blessings for good health after he was admitted to a hospital on November 1 due to high blood pressure and variations in sugar level. 
Sea of supporters hailed DK Shivakumar and chants of his name ringed in the air. However, they were surprised to see DKS arrive in a train like a common man. The supporters and Congress workers had arrived at the railway station well in advance and took him to the party office amidst fanfare. Ravi, a fan of DK Shivakumar along with others had brought a huge garland to welcome their leader. 
DK Shivakumar will be addressing party workers in the party office and later head to Nanjungud temple in Mysuru. 
DK Shivakumar was in Tihar jail for 48 days and is out after Delhi high court granted him bail in money laundering case. DK Shivakumar has been touring temples across Karnataka. "I want to wholeheartedly thank my party workers, leaders and well-wishers for this warm welcome in Bengaluru. I pray to god to give me the strength to fulfil the confidence that they have shown in me," he had tweeted after being released from the jail. 
DK Shivakumar's temple run looked more like a show of strength.
Last Updated Nov 7, 2019, 6:56 PM IST