Karnataka: Row over Karnataka Rakshana Vedike poster of visually impaired woman
A poster of visually impaired woman from Karnataka Rakshana Vedike makes headlines. Usage of visually impaired woman on the poster creates controversy in Bengaluru.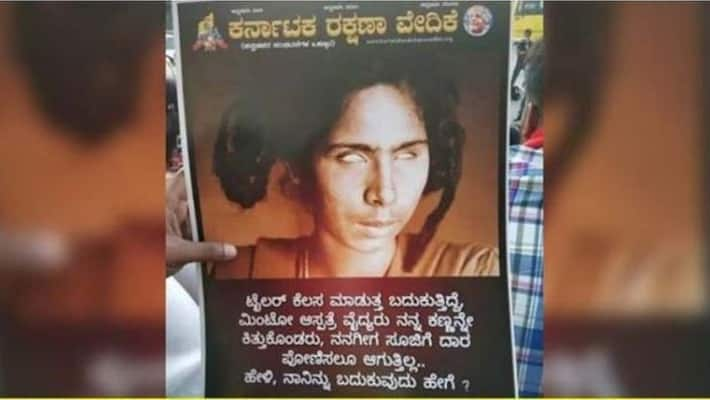 Bengaluru: Karnataka Rakshana Vedike members protesting and raising their voice against Minto hospital doctors have now made news for some other controversy.
The usage of a visually impaired woman on the poster has landed Karnataka Rakshana Vedike in trouble. The poster of the woman created ruckus for its controversial statement.
The pro-Kannada outfit had even pasted these posters at different places, which read, 'I was making a living with my tailoring job. Minto hospital doctors made me visually impaired. I'm not even able to do the slightest of things let alone tailoring. What do I do for a living now? Nab the fake doctors and prosecute them."
The Minto hospital doctors refuted the claims of the poster and said that "the woman in the poster was never treated at Minto hospital". "The poster with the visually impaired woman and her false statement is tarnishing the image of the hospital," they said.
The Minto hospital doctors and Karnataka Rakshana Vedike have been at loggerheads for over a week now. The Bengaluru doctors' strike over manhandling of two of their colleagues could mushroom into a national movement.
Two doctors at Minto hospital were allegedly manhandled by the Karnataka Rakshana Vedike members. The dispute originated from a demand for compensation for patients at a camp for the treatment of cataracts, which allegedly left them blind. When a doctor refused to converse in Kannada, they were allegedly assaulted and another medico recorded the incident on a video.
According to the Indian Medical Association (IMA), violence against doctors is on the rise and is now a national issue. 75% of the doctors in India have been victims of harassment, intimidation, violence in the workplace.
This triggered an indefinite strike by the doctors in Bengaluru and protests have been taking place across Karnataka. State medical education minister CN Ashwath Narayan met with protesters and urged them to withdraw their strike, stating demands for enhanced security will be considered. 
Last Updated Nov 8, 2019, 3:42 PM IST