3:37 PM IST
Congress rout claims first wicket? Fmr CM Siddaramaiah resigns?
In view of the humiliating defeat in the Karnataka by-polls, former CM Siddaramaiah has reportedly resigned, but Ahmed Patel, political secretary to AICC chief Sonia Gandhi has not accepted it. 
1:50 PM IST
Disunity among Congress leaders led to defeat: KS Eshwarappa, senior BJP leader
KS Eshwarappa, senior BJP leader says people have lost faith in Congress and JD(S) and voted for a stable government. He said, "BJP workers worked with unity. Even our booth-level workers gave their best. On the other hand, there was no unity among leaders. Siddaramaiah was the only one who worked hard. Mallikarjuna Kharge, DK Shivakumar all did not have unity in their canvassing."  
 
1:29 PM IST
PM Modi thanks Karnataka people for by-elections victory
Today, the people of Karnataka have shown that Congress and JD(S) can't backstab them. The people have voted for a government that is stable and strong. 
1:14 PM IST
BL Santosh national organising secretary on BJP's victory
On securing 12 seats in the by-elections, BL Santosh, national organising secretary said, "Mandya & Chikkaballapura were two districts where @BJP4Karnataka had never won assembly polls ... With today's victory in both there is no district in state BJP hasn't won elections at some point of time." 
12:36 PM IST
CM BS Yediyurappa promises he'll live up to the expectations of the winning BJP candidates
Buoyed by the success of his party in the  by-elections, CM BS Yediyurappa said he wouldn't renege on this promise and would offer ministerial berths to the winners in the elections.  
12:21 AM IST
BJP Rajya Sabha MP Rajeev Chandrasekhar mocks HD Kumaraswamy, Siddaramaiah and Ramesh Kumar
12:17 PM IST
Ramesh Jarkiholi wins by 27890 votes in Gokak while ST Somashekhar wins from Yeshwantpur by over 25k votes

Goddess of victory has blessed two more BJP candidates as Ramesh Jarkiholi wins by 27890 votes in Gokak while ST Somashekhar wins from Yeshwantpur by over 25k votes 
12:11 PM IST
Nalin Kumar kateel, Karnataka BJP president says BJP will give good governance

MLAs in both Congress and JD(S) are disgruntled. If they wish to come to our party, we will welcome them. It is 17 of those MLAs who came to us, we did not call them. We want to give good governance. 
11:43 AM IST
Here's the list of BJP candidates who have been declared won so far:
The list of BJP candidates who have declared won so far:
BC Patil from Hirekerur
K Sudhakar from Chikkaballapur
Byrati Basavaraj from KR Puram
K Gopalaiah from Mahalakshmi Layout
Narayanagowda from KR Pete 
Shivaram Hebbar from Yellapura 
Ramesh Jarkiholi from Gokak 
Srimant Patil from Kagwad 
Anand Singh from Vijayanagar
11:30 AM IST
Hirekerur's BJP candidate BC Patil says people voted for him on basis of development
BC Patil says, "We were declared as disqualified. But the people of our constituency have voted for us. People have voted in our favour. We will work towards developing our constituency." 
11:07 AM IST
BY Vijayendra, incharge of KR Pete constituency expresses happiness over BJP winning
BY Vijayendra said, "I am happy that we won. This will enable us to take up more developmental works in the constituency. Some people threw slippers at our candidate. But now, they themselves will come and garland him with flowers." 
11:02 AM IST
Narayana Gowda of BJP wins in KR Pete
Considered to be a JD(S) bastion, KR Pete has voted in favour of Narayana Gowda who defected to the BJP. 
10:52 AM IST
Hunsur's BJP candidate Vishwanath on the path of losing
Hunsur voters have clearly voted against Vishwanath as HP Manjunath, Congress candidate gets 55217. 
Vishwanath: 34396
Manjunath: 55217 
10:41 AM IST
BJP's Sudhakar wins Chikkaballapura by 36454 votes
Seems like Siddaramaiah's campaigning has not worked in Chikkaballapura as Sudhakar wins the by-elections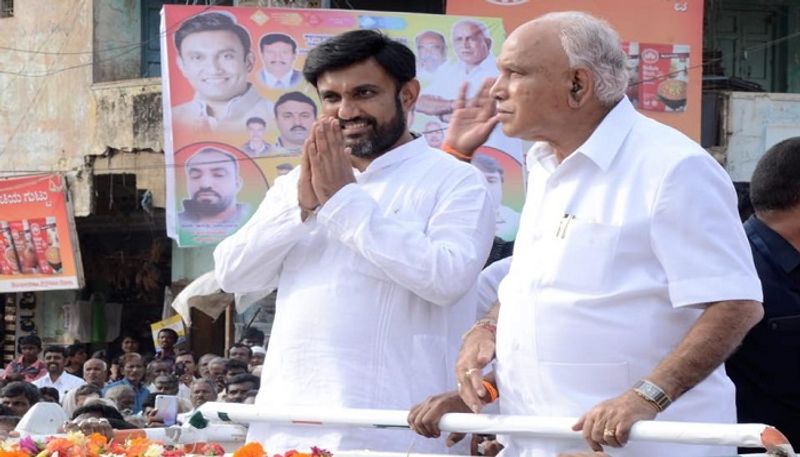 10:39 AM IST
Kagwad's BJP candidate Srimant Patil wins
BJP has had the last laugh in Kagwad as Srimant Pati has won 
10:36 AM IST
Cong leader DK Shivakumar puts up a brave front in spite of ominous signs
Congress leader DKS Shivakumar stays defiant in spite of a possible humiliating loss for the party. He adds that they will not allow the party to fall into an abyss of loss 
10:26 AM IST
CM BS Yediyurappa in a relaxed mood
A visibly relaxed CM BS Yediyurappa is seen having a chat with his senior BJP leaders at his house as his party is surely running towards getting majority seats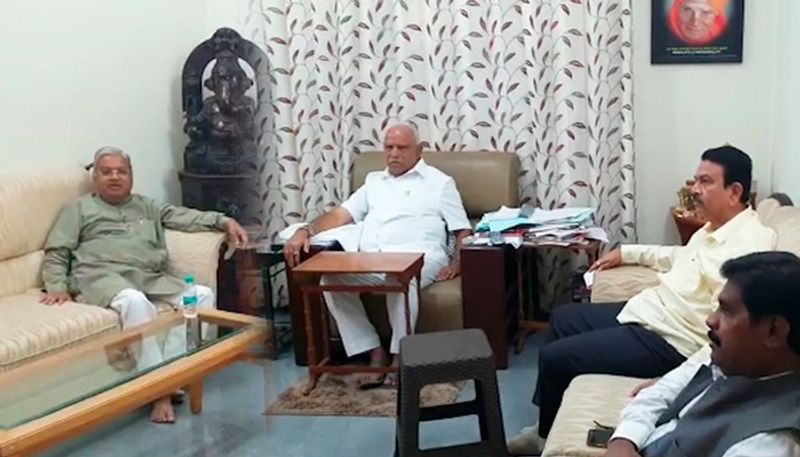 9:51 AM IST
BJP sitting pretty with 11 seats at 10 am
In the first two hours of the voting, BJP is leading with 11 seats in its kitty. 
9:32 AM IST
BJP's Kagwad candidate Srimanth Patil takes 18554 votes
Kagwad BJP's candidate Srimanth Patil leads by a margin of 18554 votes 
9:16 AM IST
BJP's Sudhakar leads in Chikkaballapur by 13,666
BJP's Sudhakar leads in Chikkaballapur by 13,666. The consitituency had also recored a voting percentage of 80% 
9:07 AM IST
Sharath Bache Gowda leads 3879 in Hosakote
Independent candidate Sharath Bache Gowda is currently leading with Ind 8780 votes while BJP's MTB Nagaraj leads with 4960 votes

 
8:57 AM IST
Mahesh Kumatahalli leads in Athani by 4,027 votes
As BJP leads in 9 seats, Mahesh Kumatahalli leads in Athani by 4,027 votes 
8:52 AM IST
BJP ahead in 10 seats as per latest reports
From Athani to Kagwad to Yellapura to Hirekeruru to Mahalakshmi Layout to Vijayanagara, BJP is ahead in as many as 10 constituencies 
8:38 AM IST
Sharath Bache Gowda leads in Hoskote
It's heartbreak for BJP's MTB Nagaraj as BJP rebel Bache Gowda is leading in the initial leads 
8:26 AM IST
Initial leads point at a BJP victory
Be it Chikkaballapura or Gokak or Hunsur or Yellapura, the BJP is doing tremendously well in the first half hour of counting 
8:22 AM IST
Opening jitters for Congress and JD(S)
BJP has managed to bag the first leads as its candidates have secured more votes in 12 seats 
 
8:15 AM IST
Counting halted in Yeshwantpur constituency due to power failure
As strange as it may sound, due to power failure in Yeshwantpur constituency, counting has been halted 
8:11 AM IST
BJP gains leads in 5 constituencies
It's a good opening for BJP in Vijayanagara, Chikkaballapura, KR Pete, Hunsuru and Gokak
8:05 AM IST
BJP gains lead in Gokak and Hunsur
In relation to postal votes, BJP's Ramesh Jarkiholi in Gokak and H Vishwanath in Hunsur have gained leads 
7:55 AM IST
Counting staff begin voting postal votes
Though counting begins at 8 am, counting staff begin counting postal votes  
7:49 AM IST
Candidates begin arriving in several counting centres
Sharat Bache Gowda, independent candidate from Hosakote, H Vishwanath, BJP candidate from Hunsur arrive at counting centres. 
 
7:45 AM IST
Congress reiterates its primary goal is to defeat disqualified MLAs
Stressing on the fact that the Congress is not necessarily interested in forming a government, Congress sources added that their primary goal is to teach disqualified MLAs a lesson 
7:40 AM IST
M Saravana, BJP's candidate from Shivajinagar constituency arrives
With just minutes left for counting to begin, M Saravana, BJP's candidate from Shivajinagar arrives at counting centre 
7:37 AM IST
Strong rooms open across counting centres
Agents of all parties arrive at counting centres as strong rooms open 
7:18 AM IST
Counting of KR Puram constituency to take place in St Joseph's Indian high school
BJP candidate Byrati Basavaraj arrives at St Joseph's Indian high school. Around 400 police personnel deployed to thwart any untoward incident 
 
7:09 AM IST
Counting of Shivajinagar constituency in Mount Carmel College
Voting percentage in Shivajinagar: 43%
Clear picture to emerge by 10 am 
More than 40 counting staff in different rooms 
 
6:48 AM IST
Tight security in place in Hoskote constituency as counting set to begin
Counting will take place at Akash international school in Devanahalli for Hoskote constituency. 1 SP, 1 ASP, 3 DySPs, 1 KSRP, 1 BSF, 2 DAR platoons, totalling 300 security personnel on guard. Counting staff begin to arrive. Only those will valid passes being let in. 
6:41 AM IST
Campaigning in all 15 constituencies had some theatrics
Former CM HD Kumaraswamy again shed tears during his campaigning in KR Pete. Union minister Sadananda Gowda mocked him saying HDK has "tears caused by Vicks". 
An admirer of Siddaramaiah blurted out "Houdo Huliya" which went viral. 
When reporters informed CM BS Yediyurappa  that Siddaramaiah is fancying his chances, the CM retorted, "He is daydreaming". 
 
6:34 AM IST
Results will have a bearing on CM BS Yediyurappa's leadership
With PM Modi and national BJP president Amit Shah not campaigning in the Karnataka by-poll, the results will test CM Yediyurappa's calibre as a leader. 
 
6:31 AM IST
While BJP confident of victory, Congress lampoons the saffron party
CM BS Yediyurappa is confident of keeping his govt afloat, Congress's Siddaramaiah and DK Shivakumar have mocked his party, saying they will be thrown out of power. 
6:28 AM IST
CM BS Yediyurappa cancels all official programmes
In view of the counting for the Karnataka by-election, CM BS Yediyurappa has cancelled all official programmes. Sources say that he will stay put in his Dollar's Colony residence. 
 
6:20 AM IST
Lowest voting percentage recorded in KR Pura Assembly constituency
The lowest voting percentage of 46.74 per cent was recorded in KR Pura Assembly Constituency in Bengaluru.
6:19 AM IST
Highest voting percentage recorded in Hosakote constituency
The highest voting percentage of 90.90 per cent was recorded in Hosakote Assembly Constituency. 
6:17 AM IST
Voters' turnout was 67.91 percent
The voters' turnout during the by-election, held last Thursday was 67.91 per cent.
6:15 AM IST
BJP has to win at least 6 seats to earn a simple majority
The ruling BJP has the strength of 105 members including the Speaker and a lone Independent MLA supports it. So it has to win at least six more seats to gain a simple majority.
6:12 AM IST
Resignation by 15 Congress and JD(S) MLAs led to Karnataka by-election
The by-election to 15 constituencies was held due to the resignation and disqualification of 15 MLAs from Congress and JD(S).
6:10 AM IST
Karnataka By-election: Postal ballots to be counted first
The Postal Ballots numbering 808 will be counted first.
6:06 AM IST
Karnataka By-elections: Counting in 15 constituencies to begin at 8 am
There are 14 counting tables placed in 10 counting centres and 21 counting tables in Yeshwanthapura where the number of contesting candidates is more. 
12:00 AM IST
Gokak's BJP candidate Ramesh Jarkiholi leads by 4394 votes
Ramesh Jarkiholi leads by a margin of 4394 votes against his own brother Lakhan Jarkiholi who is contesting on a Congress ticket