Karnataka BJP MP Shobha Karandlaje vs former CM Kumaraswamy: Who is pro-Pakistan?
BJP leaders in Karnataka slammed former chief minister HD Kumaraswamy over his Twitter comments blaming the BJP to be pro-Pakistan and said BJP never betrayed the country for anything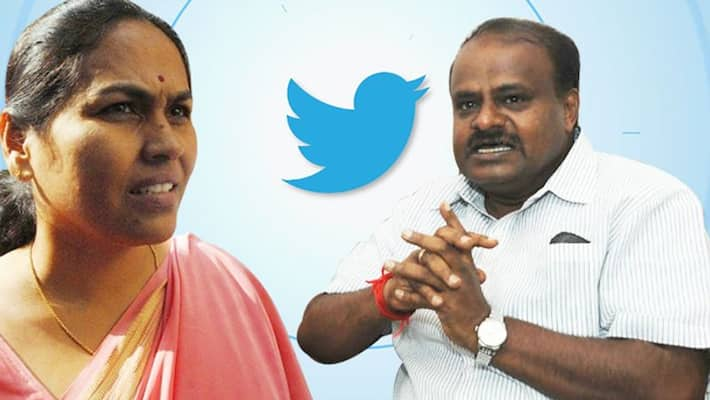 Bengaluru: War of words between political leaders during public rallies and press conferences is a common sight but this time former Karnataka chief minister HD Kumaraswamy and BJP MP Shobha Karandlaje indulged in a war on Twitter.
In reply to BJP leaders and Prahlad Joshi's statement calling him pro-Pakistani and a traitor, HD Kumaraswamy lambasted BJP leaders on Twitter. In a series of tweets, Kumaraswamy hit out at BJP and said, "Day in and day out, BJP keeps chanting Pakistan's name so looks like you all are from Pakistan and I'm the son of this soil."
Kumaraswamy wrote, "You would not have gotten a single vote if Pakistan had not been on the map. That is why chanting Pakistan's name has become your work. Is this your politics? Is this your love towards your country? Such a pathetic life?"
BJP leaders didn't keep mum and MP Shobha Karandlaje hit out at Kumaraswamy. In a reply, she said BJP has never betrayed the country for anything.
She wrote, "Nehru's greed for power &appeasement lead to the creation of Pak, with power @hd_kumaraswamy even lost mental stability itseems. For POWER u kneeled down before same Nehru Kandan & joined those who conspire with Pak to defame India. We BJP never betrayed our country 4 anything!"
BJP spokesperson, Vaman Archarya slammed the former chief minister for his statement and said, "Kumaraswamy is trying hide himself from allegations that are levelled against him from all angles. He's more pro-Pakistan than anyone else. BJP brought CAA and NCR in the interest of country, but he is opposing such bills. This shows who is pro-Pakistan."
 
Last Updated Jan 23, 2020, 4:06 PM IST