Karnataka: Belgian dog breed from Chikkamagaluru to serve as spy in Indian Army; check details
Belgian dogs from Karnataka's Chikkamagaluru region continue the Mudhol dog tradition by serving in the Indian Army. Donated by a healthcare institution, they undergo training and are deployed to border regions, fostering a unique and generous connection between Ayurvedic medicine and military service.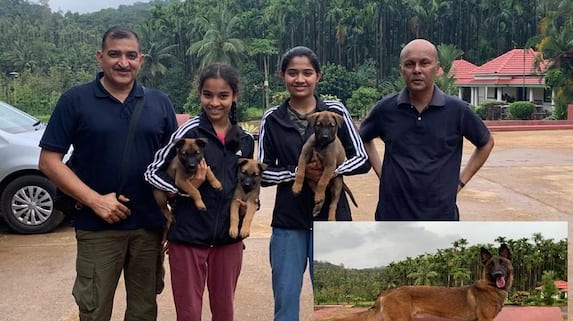 Belgian dogs from Chikkamagaluru in Karnataka are now serving in the Indian Army, following the esteemed Mudhol dogs' tradition. These Belgian dogs have been handed over to Colonel Dr. Jaivin Singh, Chief of the Intelligence Branch of the Bengaluru branch of the Indian Army.
These dogs, known for their remarkable abilities, were generously gifted to the army by Panchajanya Ayurvedic Hospital in Koppa, a renowned healthcare institution in the state. Situated in the hilly region of Koppa taluk, the hospital has garnered credit not only in Karnataka but also on the international stage. The Chakrapani family, residing in the nearby village of Kadegadde, has earned recognition for their expertise in Ayurvedic treatment and agricultural practices.

Cops praised for making tourists pick up beer bottles they threw on Kallattagiri Falls road
In addition to their healthcare endeavours, the Chakrapani family has a fondness for raising both domestic and foreign cows and dogs. Dr. Raghavendra, Chakrapani's son, actively participates in Ayurvedic treatment and agricultural activities, which include cow farming and dog care.
This unique story unfolds as a Belgian patient who took treatment at Dr Raghavendra's Ayurvedic hospital decided to gift him a Belgian dog, specifically a member of the Malinois breed. Dr. Raghavendra provided excellent care for this dog, and as a gesture of generosity, three Malinois puppies have been donated to the Indian Army, free of charge.

Karnataka: Trekking banned for now at Ettina Bhuja in Chikkamagaluru
The Chakrapani family has donated a total of 120,000 valuable Malinois dogs to the army. Dr. Raghavendra's grandsons, Sanvi Karanth and Manvi Karanth, personally delivered three of these esteemed Belgian dogs from the Ayurvedic hospital to the intelligence branch of the Indian Army. These puppies undergo training at the RVC centre in Meerut and are subsequently deployed to the border regions of Kashmir.
Dr. Raghavendra's ambitions extend beyond his Ayurvedic hospital in Kadgadde, with his active engagement in agriculture and the practice of panchakarma medicine. His property features a variety of Gir breeds of cows, domestic and foreign dogs, and a dedicated plantation for his agricultural purposes.
Last Updated Sep 18, 2023, 4:03 PM IST