'Why so angry and rude?' Kapil Sibal faces backlash online after SC seeks allegiance affidavit from his client
Senior Advocate Kapil Sibal has received criticism on social media for representing National Conference leader Mohd Akbar Lone, the main petitioner challenging the abrogation of Article 370 in the Supreme Court. Lone has been asked to submit an affidavit affirming his allegiance to the Constitution and recognizing India's sovereignty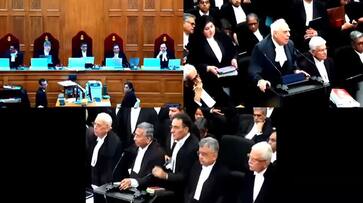 Senior Advocate Kapil Sibal faced significant social media criticism for his legal representation of National Conference leader Mohd Akbar Lone, the primary petitioner challenging the abrogation of Article 370. The Supreme Court on Monday requested Lone to submit an affidavit affirming his allegiance to the Indian Constitution and recognizing the country's sovereignty in response to allegations that he had chanted 'Pakistan zindabad' in the Jammu & Kashmir assembly in 2018, sparking controversy.
Lone, the lead petitioner in the Article 370 case, must file this affidavit by Tuesday, as conveyed to Sibal by a five-judge bench led by Chief Justice DY Chandrachud. Sibal stressed that he would withdraw his representation if Lone failed to comply, emphasizing that Lone, as an Indian citizen and Lok Sabha MP, had already pledged to uphold the Constitution and acknowledge India's sovereignty.
Earlier, Solicitor General Tushar Mehta, representing the central government, urged Lone to apologize for the alleged 'Pakistan zindabad' slogan, which was brought to the court's attention by a Kashmiri Pandit group called 'Roots in Kashmir.' They questioned Lone's credentials, alleging his support for secessionist forces.
During the post-lunch session, Justice Kaul noted that lawyers supporting Article 370's abrogation argued that Lone's alleged statement was inconsistent with their stance. Sibal clarified that he was solely concerned with Lone filing the required affidavit and would not represent him if he failed to do so. The Chief Justice reiterated the need for Lone to submit an affidavit affirming his unconditional acceptance of India's sovereignty and Jammu and Kashmir's integral status within India, a requirement Sibal supported, emphasizing that he did not endorse what Lone allegedly said.
Mehta stressed that Lone should affirm in his affidavit that he does not support terrorism and secessionism, a reasonable request in the court's view, given the litigant's appeal to its jurisdiction. Sibal pointed out that the alleged incident occurred during the 2018 Jammu and Kashmir assembly session, suggesting there may have been other factors at play, and urged everyone to focus on the legal issue.
The bench instructed Sibal to ensure Lone submits a brief affidavit by Tuesday, emphasizing their openness to diverse voices in the court. Attorney General R Venkataramani emphasized that those defending their fundamental rights should have faith in the Constitution. Sibal continued his legal arguments, reaffirming that they had not contested India's sovereignty and that Jammu and Kashmir remained an integral part of the country.
As videos of the courtroom exchange circulated on social media, some questioned how Sibal could have been unaware of "Lone's India hate and Pakistan love" until that morning, while others raised concerns about Sibal's response to CJI Chandrachud's request for the affidavit from his client.
Last Updated Sep 4, 2023, 11:51 PM IST