Himachal Pradesh: 7 killed in cloudburst in Solan; schools, colleges shut today
Himachal Pradesh rains: Seven people have died after a cloudburst incident in Himachal Pradesh's Solan district, authorities said. Chief Minister Sukhvinder Singh Sukhu offered condolences in a tweet, and said he has directed the authorities to ensure all possible assistance and support to the affected families.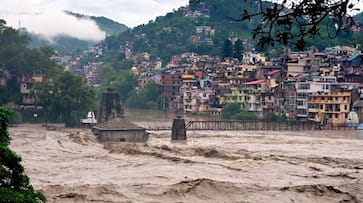 Heavy rains continue to create havoc in Himachal Pradesh, where the Beas River has swelled creating a flood-like situation in many places. The India Meteorological Department issued a 'yellow' alert, indicating the possibility of heavy rainfall in the state on Monday. In light of the persistent rains that have caused landslides and blocked multiple highways during the past 24 hours, the state administration has declared the closure of all institutions and universities in the state.
At least seven people were killed and three went missing after a cloudburst hit a village in Himachal Pradesh's Solan on Monday.  Two homes and a cowshed were destroyed in the incident in Jadon Village, according to Kandaghat Sub-Divisional Magistrate (SDM) Siddhartha Acharya.
Also Read | 18 deaths in 24 hours in Maharashtra hospital, probe committee formed
This came even as heavy rainfall continued to pound Himachal Pradesh and neighbouring Uttarakhand in the past 24 hours, with landslides closing important routes, bridges being washed away, schools being closed, and river levels rising. A tree in Shimla, Himachal Pradesh, was uprooted and fell on a car, injuring the conductor of a private bus.
The state emergency operation centre reports that a total of 621 highways, including a maximum of 236 in Mandi, 59 in Shimla, and 40 in the Bilaspur district, are now restricted to vehicular traffic.
According to authorities, recurrent landslides have been affecting a crucial section of the Shimla-Kalka National Highway, which connects Shimla and Chandigarh, during the past two weeks.
The Hamirpur district has been devastated by 48 hours of nonstop rain, which has triggered a flood in the Beas river and its tributaries. The worst affected are the areas where the nullahs of Maan and Kunah are located, officials said. The rains and landslides have caused widespread damage to crops, fertile land and official and private buildings in all parts of Hamirpur. People have been advised by the district government to stay indoors and to stay away from the nullahs and bank of the Beas River.
Also Read | Unacademy teacher urges students 'not to vote for illiterate politicians' (WATCH)
Last Updated Aug 14, 2023, 9:45 AM IST