Rawat aces floor test, returns as Uttarakhand CM a hero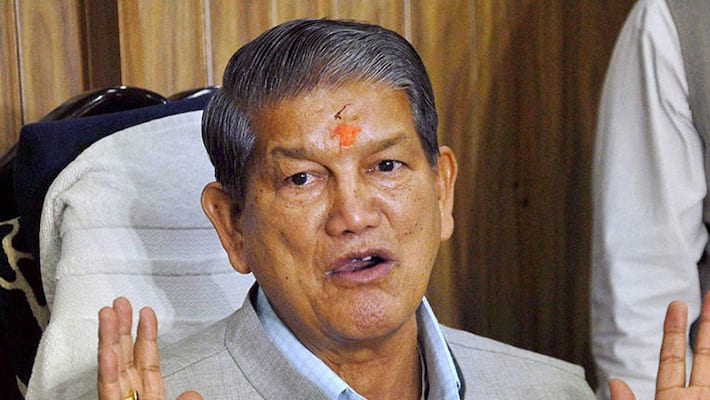 Harish Rawat, who was on a political roller coaster for the last six weeks following the dismissal of his government, today returned a hero to occupy the Uttarakhand Chief Minister's chair once again as BJP cut a sorry figure after its attempts to topple his government came a cropper.
Rawat, a five-term MP, showed both political sagacity and exemplary tenacity in foiling the BJP's attempts at doing a repeat of what it done in Arunachal Pradesh by engineering a vertical split in the Congress Legislature Party.
The 67-year-old Rajput leader from the hill state cut his political teeth in village politics and made an impressive entry into the Lok Sabha in 1980 when he defeated BJP stalwart Murli Manohar Joshi from Almora. He headed Congress' volunteers wing 'Seva Dal' for several years and was a minister at the Centre.
The soft-spoken leader, who won the 2009 general election from Haridwar by a whopping 3.3 lakh votes, was called upon to take over the reins of his home state in February 2014 after Chief Minister Vijay Bahuguna had to step down amid mounting criticism of his handling of the situation in the aftermath of the massive floods in the state that ravaged large parts and claimed hundreds of lives.
Rawat faced the toughest test of his political career when on March 18 this year nine of Congress' 36 MLAs revolted and joined hands with BJP to vote against the passage of the Appropriation Bill. As BJP and rebel Congress MLAs demanded a division, Speaker Govind Kunjwal declared the bill as passed by voice vote and adjourned the House. The next six weeks were to severely test Rawat's survival skills.
The very next day, Governor K K Paul asked Rawat to seek a trust vote on March 28.
On March 26, two days before the crucial trust vote, a sting video surfaced which purportedly showed Rawat negotiating a money deal with a journalist to buy back the support of Congress rebels.
As BJP alleged horsetrading by Rawat, Governor Paul sent a report to the Centre. The Union Cabinet held an emergency meeting the same day and recommended President's rule.
In fast-paced developments, President Pranab Mukherjee put his stamp on the recommendation and the state was placed under central rule on March 27, a day before the scheduled floor test. Acting swiftly, the Speaker disqualified the nine rebel Congress MLAs the same day.
A day later on March 28, Rawat moved the Uttarakhand High Court against the imposition of President's rule.
Severely indicting the Centre for its decision to impose President's rule in the state, the Uttarakhand High Court on April 21 quashed the order, saying it "undermines the foundation of federalism" and "toppling of a democratically elected government breeds cynicism in the hearts of citizens who participate in a democratic system". It also ordered a floor test on April 29 to ascertain if Rawat enjoyed the majority in the state assembly
Last Updated Mar 31, 2018, 6:46 PM IST