Gandhi Sankalp Yatra: Rajya Sabha MP Rajeev Chandrasekhar joins journey to Plastic Free India
BJP MP representing Bengaluru Central (Lok Sabha) PC Mohan along with Rajya Sabha MP Rajeev Chandrasekhar set off on the Gandhi Sankalp Yatra across Bengaluru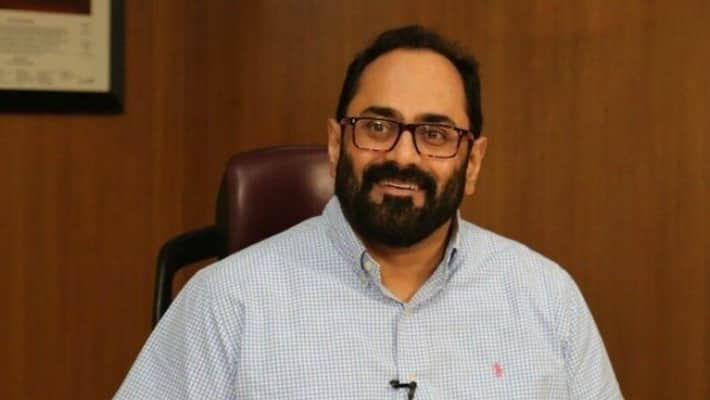 Bengaluru: BJP president and Union home minister Amit Shah flagged off the party's nationwide "Gandhi Sankalp Yatra" on Wednesday (October 2), with party leaders including other Union ministers. The act marked the start the four-month drive from different parts of the country. 
Today in Bengaluru, BJP MP representing Bengaluru Central (Lok Sabha) PC Mohan along with Rajya Sabha MP Rajeev Chandrasekhar set off on the Gandhi Sankalp Yatra across Bengaluru. 
Chandrasekhar, along with his party workers and office bearers, walked the streets to spread awareness on the issue that has been the talk of the city for a long time, Plastic Free India and Swachhata Hi Seva. 
Earlier in the day, MP Rajeev Chandrasekhar took to Twitter to state, " Today joined @PCMohanMP n #MayorGowtham wth 100s of @BJP4Karnataka karyakartas to kick off #GandhiSankalpYatra across #Bengaluru to spread msg of #PlasticFreeIndia #SwachhataHiSeva.  This will continue thru Oct. pls Join us whn we come to ur neighbourhood.🙏🏻 #GandhiAt150."
The Gandhi Sankalp Yatra aims to propagate ideals of the Father of the Nation, including cleanliness, simplicity, use of Khadi and non-violence. The Sankalp Yatra is scheduled to end on January 30 (Mahatma Gandhi's death anniversary).
Last Updated Oct 3, 2019, 5:03 PM IST