G20 Summit: Why India's presidency has been historic in many ways
Explore the highlights of India's historic and inclusive G20 Presidency, emphasizing sustainability, gender equality, technological transformation, and more. Discover India's legacy and its remarkable achievements on the global stage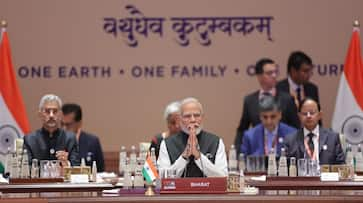 India's G20 Presidency is poised to enter the annals of history as a profoundly inclusive, culturally vibrant, and goal-driven event. It provided a platform to highlight India's commitment to development, leveraging technology for improved living standards, and fostering peace nationwide. The G20 gathering featured an impressive tally of over 220 meetings conducted in 60 cities, with the participation of more than 25,000 delegates hailing from over 115 countries globally. This truly embodied the spirit of 'Vasudhaiva Kutumbakam,' with a significant presence from the African Union.
Throughout the G20 event hosted by India, a multitude of impactful events unfolded across the nation, shining a spotlight on India's inclusive growth in various sectors. The involvement of the African Union underscored India's message of inclusive development and giving voice to all segments of society. The event also emphasized sustainability-based development, aiming to alleviate burdens and create a better world for future generations. It championed food security through the promotion of millet and equitable healthcare for all.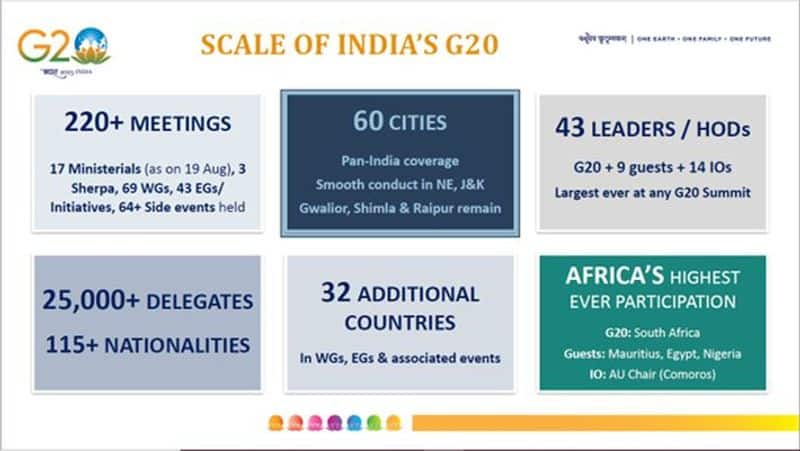 Key Achievements
Green Development Pact for a Sustainable Future: The G20 event placed considerable emphasis on sustainable development to safeguard the interests of future generations. To achieve this, a climate finance mechanism was established, enabling developed countries to meet the USD 100 billion goal. The event signalled an ambitious New Collective Quantified Goal (NCQG) beyond 2025. Accelerated progress toward the Sustainable Development Goals was a key focus, supported by access to data from various countries to tailor solutions.
Gender Equality & Empowering Women: The G20 event advocated for the inclusive participation of girls in education and women in the workforce. India showcased its efforts to provide women-oriented healthcare and increase opportunities for women through access to bank accounts. The event also highlighted the increased participation of women in STEM fields.
Technological Transformation & Digital Public Infrastructure: India demonstrated how technology can be harnessed for "Minimum Government, Maximum Governance." Enhanced technology access not only improved transparency but also ensured the delivery of welfare to the most remote areas. The digital economy created new job opportunities and lifted people out of multidimensional poverty, thanks to affordable data and indigenous technology platforms.
Multilateral Institutions for the 21st Century: The G20 event showcased India's ambition to achieve seemingly impossible goals. Various frameworks evolved during the event, including reforms for Multilateral Development Banks (MDBs), a Crypto Assets Roadmap, a Common Framework for Debt Treatment beyond DSSI, the IMF quota review, and multilateral reform referencing UNGA 75/1 (UNSC). The event also emphasized condemning and countering terrorism.
India's Narrative
Prime Minister Modi advocated for several crucial principles, including the adoption of LiFE principles, leveraging technology for governance, equitable access to quality healthcare, promotion of millets for food security, reducing land degradation, skilling youth for future-proof careers, increased inclusive participation in the labour force, women's empowerment, and the development of disaster-resilient infrastructure.
New Mechanisms
The G20 event emphasized the promotion of the global startup ecosystem and the adoption of alternate fuels to ureduce fossil fuel dependence. Discussions revolved around alternate fuels such as Hydrogen, ethanol blending, and the faster adoption of renewable energy to ensure sustainable growth and meet energy demands. India's inclusive approach, featuring the African Union's participation, underscored a commitment to leaving no one behind. The event also showcased the use of technology to enhance transparency, accountability in governance, and the delivery of welfare to underserved areas, demonstrating democracy's vitality and universal well-being.
Most Ambitious Presidency in G20's History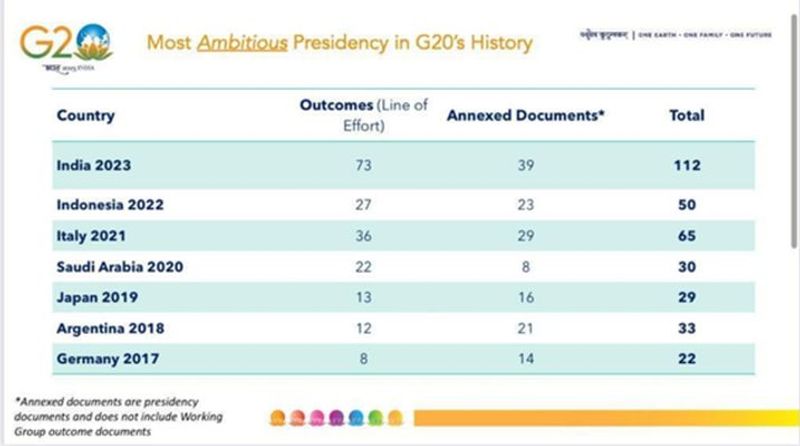 Comparison with Past Presidencies
India's G20 event surpassed previous presidencies in terms of inclusivity and delivery-oriented outcomes. It produced an impressive 91 lines of effort and presidency documents, exceeding the combined total of previous G20 presidencies until 2017. With 112 outcomes and presidency documents, India's G20 Presidency demonstrated a significant increase in substantive work compared to past presidencies, with two to five times more outcomes and annexed documents.
India's G20 Legacy
The G20 event in India showcased the nation's resilience and path to development while prioritizing the equitable welfare of its citizens. It highlighted easy access to welfare, the provision of affordable and high-quality healthcare, and expanded social security through housing, banking access, clean drinking water, and sanitation. These accomplishments drew the attention of participating countries, underscoring the scale and speed of India's achievements.
Last Updated Sep 9, 2023, 5:35 PM IST