G20 Summit 2023: Why is German Chancellor Olaf Scholz wearing an eye patch?
G20 Summit 2023: German Chancellor Olaf Scholz on Saturday wore an eye patch to the G20 Summit in Delhi. Scholz fell while jogging. He had tweeted a pirate-style picture of himself with a black eye patch and dark-red bruises on the right side of his face.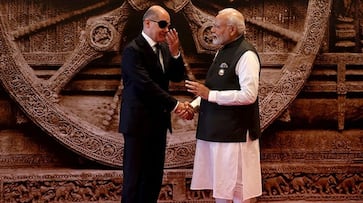 German Chancellor Olaf Scholz on Saturday wore an eye patch to the G20 Summit in Delhi on Saturday. The 65-year-old had a new appearance after suffering a facial injury while running last Saturday. 
According to his spokesperson, Scholz has suffered minor injuries and will have to wear the eye patch for the next few days.  Despite the injury, Scholz—who has been a consistent runner for years—was in terrific shape, according to what his spokesperson, Steffen Hebestreit, told the media on Monday.
Also Read | WATCH: African Union becomes permanent member of G20
The German Chancellor also shared a photo on X (formerly known as Twitter) earlier this week showing him with a massive black patch covering his right eye and red scrape lines around the border.  
"Thanks for the well wishes. It looks worse than it is!" he wrote under the picture on his official account. "Excited to see the memes," he added. 
Meanwhile, Prime Minister Narendra Modi greeted world leaders for the G20 summit in New Delhi today. He shook hands and gave warm hugs to the world leaders who will now hold discussions on Ukraine, climate change and other contentious global issues.
Also Read | Here's what PM Modi wore on first day of G20 Summit 2023
The G20, a group of the world's 20 largest nations, is important because it was established in 1999 in the wake of the Asian financial crisis with the belief that stronger global economic cooperation was necessary to address problems that crossed boundaries.
Argentina, Australia, Brazil, Britain, Canada, China, France, Germany, India, Indonesia, Italy, Japan, South Korea, Mexico, Russia, Saudi Arabia, South Africa, Turkey, the United States, and the European Union are among the nations represented.
Last Updated Sep 9, 2023, 12:30 PM IST