Here's what PM Modi wore on first day of G20 Summit 2023
G20 Summit 2023: PM Modi arrived at Bharat Mandapam as two-day G20 Summit begins today. He was welcomed by External Affairs Minister S Jaishankar and NSA Ajit Doval. PM Modi was een wearing a white kurta-pyjama with a black bandhgala coat.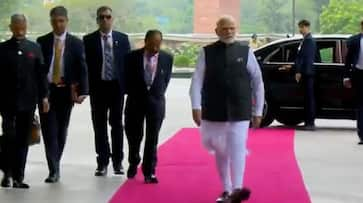 Prime Minister Narendra Modi was on Saturday welcomed by External Affairs minister S Jaishankar and National Security Advisor Ajit Doval at Bharat Mandapam, the venue for G20 Summit in Delhi's Pragati Maidan. Before entering the venue, the three leaders greeted each other with folded hands and then were seen having a brief talk.
While PM Modi was seen wearing a white kurta-pyjama with a black bandhgala coat, Jaishankar wore a black bandhgala suit with red pocket square.
Also Read | G20 Summit LIVE Updates: PM Modi receives world leaders at Bharat Mandapam (WATCH)
The welcome handshake of all leaders with PM Modi will showcase the Konark Wheel from Odisha. The Konark Wheel was built during the 13th century under the reign of King Narasimhadeva-I. It serves as a powerful symbol of the wheel of democracy that reflects the resilience of democratic ideals, and commitment to progress in society.
At around 10.30 the first session of the G20 Summit: 'One Earth' will take place. One Earth will be one of the main topics of discussion during the session at the G20 leaders' summit. This session will focus on accelerating climate action through increased mitigation and strengthening the agenda of global net zero emission as soon as possible.
On Friday, PM Modi changed his profile photo on the microblogging platform X to the Bharat Mandapam. The picture shows a brightly-lit Bharat Mandapam with a Nataraja statue installed there. On September 9 and 10, the G20 summit is set to take place in Delhi. Among those anticipated to participate are US President Joe Biden, Japanese Prime Minister Fumio Kishida, and British Prime Minister Rishi Sunak. 
Also Read | G20 Summit 2023: UK PM Rishi Sunak releases 'Why I'm at G20' video, lists his goals
Last Updated Sep 9, 2023, 10:32 AM IST