G20 Dinner: Congress cries foul over Kharge's exclusion from guest list, but even BJP chief is not invited
The exclusion of Congress President Mallikarjun Kharge from President Droupadi Murmu's G20 leaders' dinner guest list has sparked controversy, with the Congress party criticizing the Narendra Modi government. However, even the ruling party's chief, JP Nadda, is not among those invited.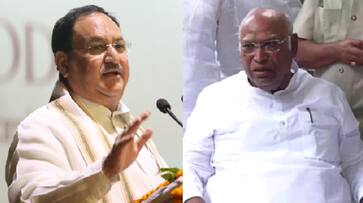 In a surprising turn of events, the exclusion of Leader of the Opposition in Rajya Sabha and Congress President Mallikarjun Kharge from the guest list for President Droupadi Murmu's G20 leaders' dinner has ignited a political firestorm. The Congress party has criticized the Narendra Modi government for what they perceive as a low-level political move. However, it is worth noting that even the ruling party's chief, JP Nadda, did not receive an invitation to the prestigious event.
The controversy escalated as Congress leader Rahul Gandhi, currently on a European tour, openly condemned the government's decision to exclude Kharge. He suggested that this exclusion signaled a lack of regard for a leader representing a significant portion of the country's population. Gandhi went on to question the motives behind this move, hinting at potential political motivations.
Adding fuel to the fire, Tamil Nadu Congress leader Mohan Kumaramangalam accused Prime Minister Modi's government of engaging in caste-based discrimination by not inviting Kharge, a prominent leader of the Congress party. He provocatively raised questions about whether this exclusion was reflective of Modi's policies or an adherence to ancient Manusmriti principles.
The President's G20 dinner, scheduled for Saturday, will take place at the brand-new Bharat Mandapam in Pragati Maidan. The menu will feature Indian cuisine with a special emphasis on millets, a grain promoted by the country. To enhance the grandeur of the event, a three-hour concert showcasing different styles of classical and contemporary music will be performed for the world leaders.
In response to the controversy, former Finance Minister P Chidambaram expressed his concerns on social media, stating, "I cannot imagine any other democratic country's government not inviting the recognised Leader of the Opposition to a state dinner for world leaders. This can happen only in countries where there is no Democracy or no Opposition." "I hope India, that is Bharat, has not reached a stage where Democracy and the Opposition will cease to exist," he added.
Last Updated Sep 9, 2023, 3:01 PM IST