Former minister Vishweshwar Hegde Kageri accuses Karnataka CM of emptying state coffers for guarantee schemes
Former minister Vishweshwar Hegde Kageri criticized the Congress-led government in Karnataka for mishandling drought relief efforts and focusing on guarantee schemes at the expense of the state's finances. He expressed concerns about the dire situation in Molakalmuru, a drought-prone constituency, and accused the government of inadequate efforts to address the crisis.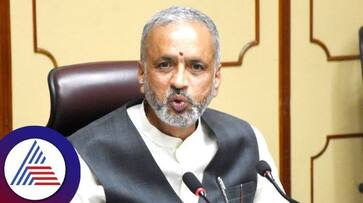 Vishweshwar Hegde Kageri, former minister, had strong words against the Congress-led government in Karnataka. He accused them of mishandling drought relief efforts and repeatedly pointing fingers at the central government for various problems. During his visit to different areas, including Chikkakere and Nelagetahatti in Nayakanahatti town within the Molakalmuru assembly constituency, Kageri expressed his concerns about Karnataka's financial situation.
The government's unwavering focus on guarantee schemes has significantly drained the state's finances, driving it perilously close to bankruptcy. Despite the severe drought and minimal rainfall, there needs to be a complete lack of a well-structured plan to assist our struggling farmers. Many rural areas are grappling with job scarcity, and while our farmers are suffering from crop losses, Congress leaders seem more interested in power struggles, with little to show for their first hundred days in office.

Karnataka home minister assures uninterrupted implementation of guarantee schemes amid financial challenges
The Molakalmuru assembly constituency, where we conducted our inspections, is notorious for its backwardness and the lowest rainfall in the state. The situation here is dire, with people struggling even for a drop of water. Special funding for drought management has been conspicuously absent, leading to the withering of crops like millet, groundnut, sunflower, and maize. It's my contention that the state government, engrossed in political power-sharing, has made woefully inadequate efforts to address the pressing drought crisis.

Union Minister Rajeev Chandrasekhar Criticizes Karnataka Congress Govt Over Budgetary Shortfalls
In response to what we perceive as the Congress government's detrimental policies towards our farmers, we, the BJP, have formed 17 teams to assess the drought situation in our state. Alarmed by this situation, the Chief Minister has instructed his ministers to undertake district tours for a comprehensive drought assessment. I want to stress that if the government can allocate funds for guarantees, it should also allocate funds for crop compensation to support our struggling farmers. It's disheartening that the government seems to prioritise political manoeuvring over the livelihoods of our people, merely funnelling funds to district commissioners for drought relief.
During Kageri's visit, he was accompanied by various BJP members, including KS Naveen, former legislators GH Tippareddy and S. Tippeswamy, mandal president E. Ramareddy, as well as other prominent leaders such as MYT Swamy, Shivanna, Pattana Panchayat member Mahantesha, Parameshwarappa, and Sharadamma.
Last Updated Nov 8, 2023, 11:14 AM IST