Fact-Check: PM Modi has NOT asked to boycott foreign goods during Diwali
A Facebook post is doing rounds on social media claiming that Prime Minister Narendra Modi has called for a boycott of foreign products during Diwali this year. Let's check the actual fact.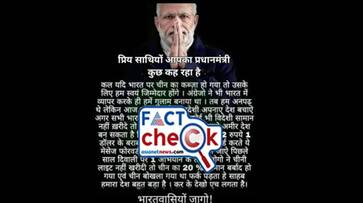 The country is all set to embrace one of the biggest festivals Diwali. This is also the time when the Indian markets have a large overflow of consumers. Diwali season is the period when the North Indian market and online sales platforms in particular target the highest turnover. As Diwali approaches in the country, a post has gone viral on social media. In a Facebook post, Prime Minister Narendra Modi has called for people to avoid buying foreign products during this Diwali. 
What is going viral?
On October 30, 2023, a Facebook user named Shamji Chabhadia shared a large note with a picture of Prime Minister Narendra Modi. 
Facebook post:
Dear friends, Your Prime Minister has something to say:
'Tomorrow, if China puts India under its feet, we will be responsible for it. The English also made slaves by trading in India. We were illiterate then. But today people are aware. Own native goods and save the country. If every Indian does not buy a single foreign product for 90 days, India will become the second richest country in the world. In 90 days two rupees will be equal to one dollar. Forward this message instead of forwarding jokes and create a revolution. Last year, 20 percent of China's products were destroyed due to the boycott of Chinese lamps during Diwali. This surprised China. There is change brother, our country is big. The Facebook post reads, ``Wake up Indians''.
Fact:
However, a keyword search on Google did not turn up a single story about Prime Minister Narendra Modi calling for a boycott of buying foreign products. No such call has been made in the Prime Minister's Twitter account in recent days. If the Prime Minister or the central government had made such a call to the people, it would have been reported by all the media in the country with great importance. Hence, the propaganda that Prime Minister Narendra Modi has appealed to people not to buy foreign products, especially Chinese products during Diwali, is false. There are reports that such messages were circulated in previous Diwali seasons as well. 
Last Updated Nov 3, 2023, 3:59 PM IST