Ex-WFI chief Brij Bhushan was 'fully aware' of his actions, enough evidence to frame charges: Cops to court
Delhi police argue in court that there is sufficient evidence to frame charges against former Wrestling Federation of India chief and BJP MP Brij Bhushan Sharan Singh, who faces sexual harassment allegations from several top women wrestlers.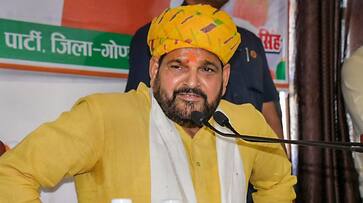 Former World Wrestling Federation (WFI) Chief and BJP MP Brij Bhushan Sharan Singh allegedly tried to sexually harass female wrestlers whenever he had the chance, the Delhi police claimed in court on Saturday, and they argued that there is enough evidence to establish charges against him. Delhi's Rouse Avenue Court granted an exemption to Brij Bhushan Sharan Singh from appearing in court on this occasion.
The police cited an alleged incident in Tajikistan as part of their argument, indicating that Singh knew what he was doing. According to the complaint of a woman wrestler, during an event in Tajikistan, Singh called her into a room and forcefully hugged her. When she protested, Singh claimed he had done it like a father. "This clearly shows that he was fully aware of his actions," the police told the court.
The police emphasized that the issue isn't whether the victim reacted or not, but that she was wronged.
Referring to another complaint during the Asian Championship in Tajikistan, the police mentioned that another woman wrestler alleged that Singh lifted her shirt without permission and touched her stomach inappropriately.
The Delhi Police also brought up an alleged incident at the WFI office in Delhi and argued that the national capital was the jurisdiction for these complaints. They drew a parallel to the Sohrabuddin encounter case in Gujarat, where multiple FIRs were registered separately, but the court heard them all in one place.
The oversight committee appointed by the Union Sports Ministry, headed by Indian boxing legend MC Mary Kom, did not exonerate Brij Bhushan Sharan Singh in its investigation of the allegations against him. The report was not made public, but a copy was provided to the Delhi police, who are conducting their investigation.
Sexual harassment against a woman carries a maximum punishment of three years' imprisonment, as stated by the police. A charge sheet against Singh was filed on June 15.
The next hearing is scheduled for October 7 in the Rouse Avenue Court.
Last Updated Sep 24, 2023, 11:27 AM IST