Devastating fire engulfs houseboats on Dal Lake in Srinagar; dramatic videos go viral (WATCH)
Several houseboats on Dal lake in Jammu and Kashmir's Srinagar were reduced to ashes in a massive fire on Saturday morning, the police said.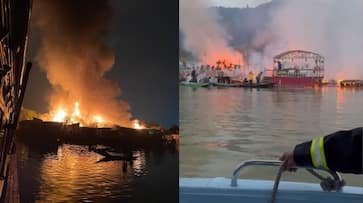 In a tragic incident, several houseboats moored on the picturesque Dal Lake in Srinagar, Jammu and Kashmir, were reduced to ashes in a massive fire that erupted in the early hours of the morning. The local police reported that the blaze originated at a houseboat near Ghat number 9 of Dal Lake, quickly spreading to nearby vessels, resulting in a catastrophic scene.
The fire's rapid escalation posed a severe challenge for firefighters as it swiftly engulfed multiple houseboats along the tranquil waters of Dal Lake. Despite the efforts to contain the inferno, the intensity of the flames resulted in significant damage to the floating dwellings.
As the situation unfolded, officials revealed that five houseboats have been entirely destroyed in the blaze, while several others suffered varying degrees of damage. The iconic houseboats, symbolic of the region's cultural richness, now stand charred and crippled, marking a poignant loss to the community.
Amidst the devastating scenes, there is a silver lining as authorities confirm that there have been no immediate reports of injuries or loss of lives in the wake of the fire. The swift response of emergency services likely played a crucial role in preventing human casualties, although the material loss remains substantial.
In the aftermath of the fire, local authorities are launching an investigation to determine the cause of the incident. Meanwhile, the affected houseboat owners and the community at large face the challenging task of rebuilding and recovering from this unexpected tragedy.
Last Updated Nov 11, 2023, 11:11 AM IST