Delhi violence: 'Watch hate speeches', court says verdict on plea for FIR against leaders on March 2
On February 26, a Delhi court said that they would pass an order on March 2 on whether to lodge an FIR against Union minister Anurag Thakur and BJP leader MP Parvesh Verma for their alleged hate speeches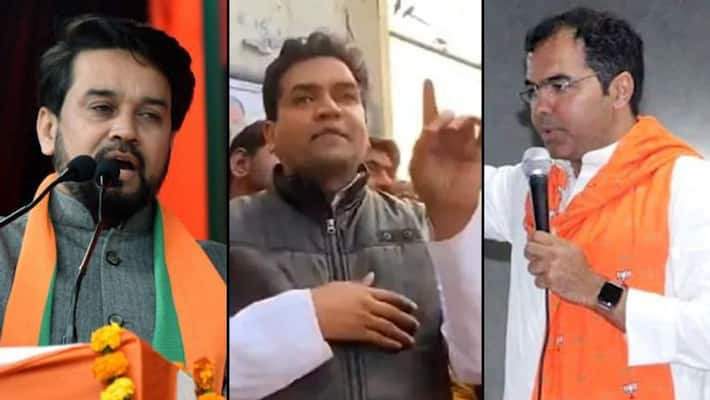 New Delhi: A Delhi court will pass an order on March 2 on whether to lodge an FIR against Union minister Anurag Thakur and MP Parvesh Verma for their alleged hate speech in relation to the anti-CAA protest at Shaheen Bagh.
No cognizable offence found:
Delhi Police told Additional Chief Metropolitan Magistrate Vishal Pahuja that prima facie no cognizable offence was found to lodge FIR against Thakur and Verma.
The police, which made the submissions in the Action Taken Report, sought more time from the court to file the final ATR.
Police also told the court that legal opinion was being sought in the matter.
Let us take a look at those "hate speeches":
Anurag Thakur:
Thakur, the minister of state for finance, shouted "desh ke gaddaron ko" to which the crowd responded, "goli maro saalon ko" (shoot down the traitors). Regarding this, the Election Commission of India (ECI) had imposed a 72-hour ban on him and put him off the star campaigner list of the BJP during Delhi election 2020.
BJP MP Parvesh Verma:
BJP MP Verma had on January 28 said what happened in Kashmir with Kashmiri Pandits could happen in Delhi, warning that lakhs of anti-Citizenship (Amendment) Act protesters in Shaheen Bagh could enter homes to kill people and rape women.
BJP leader Kapil Mishra:
In his tweet, Mishra gives Delhi Police an ultimatum of three days to empty the streets of protesters. In the video, Mishra states, "In the presence of the DCP, I say that not one of us (pro-CAA protesters) have pelted stones. We have remained calm and will do so until Trump is here. Even after that, If the streets are not cleared of protesters, we will not listen to you (police). He added to his statement after the applause of people around him stating, "I request you to clear the streets by the time Trump leaves, or we will have to come on to the streets."
But another hate speech in which a Muslim leader gave out a clarion call to 15 crore Muslims to hunt down 100 crore Muslims was not mentioned in the high court.
Waris Pathan hate speech:
Waris Pathan was addressing an event held in protest over the Citizenship Amendment Act (CAA) in Kalaburagi and he had stated "15 crore hain lekin 100 crore pe bhari hain". "We have to move together. We have to take Azadi (freedom), things that we don't get by asking, we have to take it by force, remember it...(We maybe) 15 crore, but are heavy on 100 (crore), remember it," Pathan had stated.
Leader refuses to apologise:
Waris Pathan, the former MLA who had made controversial remark refused to tender any apology and said, "My statement is being misconstrued and twisted. I am not apologizing. It is BJP which is trying to segregate Indians".
The high court also asked the authorities to check other hate speeches of others and register FIRs against them.
 
Last Updated Feb 26, 2020, 6:44 PM IST