Coronavirus cases in India reach 1.25 lakh, highest spike in daily COVID-19 count
India's total count of cases rose to 1,25,101, including 3,720 deaths, on Saturday. In the last 24 hours, the country reported 6,654 cases and 137 deaths.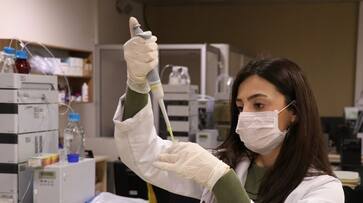 New Delhi: India registered highest number of 6,654 COVID-19 infections in the past 24 hours. The total number of confirmed cases reached 1,25,101 on Saturday. After 137 individuals succumbed to the viral infection in the past 24 hours, the COVID-19 toll now stood at 3,720.
Also read: South Kashmir's Pulwama saw one policeman killed and another injured in an attack on security forces
Of the total confirmed, there are 69,597 positive cases across the nation, according to the latest data released by ministry of health and family welfare.
Coronavirus infected over 44,000 people in Maharashtra. The total number of coronavirus cases in the state is three times higher than Tamil Nadu, the second worst-impacted state. Mumbai alone confirmed over 25,000 cases. The fatalities in the state rose to 1,500.
Globally, the total number of cases is now 5.2 million, according to Johns Hopkins University. The death toll is 338,121. The United States alone accounts for nearly 1 lakh of these deaths.
 
Last Updated May 23, 2020, 10:38 AM IST