Congress emerges as a clear winner in Kanakapura local body elections in Karnataka
Victory for Congress in DK Shivakumar's turf, Congress won 7 seats unanimously in Kanakapura local body elections in Karnataka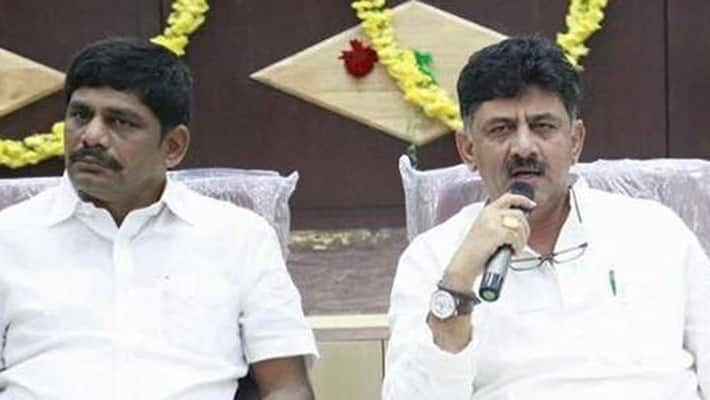 Kanakapura: Kanakapura has been Congress' stronghold and DK Shivakumar's bastion over the years. Yet again the constituency favored the Congressmen. The local body election results were announced and Congress cleared emerged as winners with a majority in their kitty. 
Congress swept 15 seats while BJP managed to win only 1 seat in the Kanakapura local body elections. Having won unanimously in 7 seats, Congress comfortably won with 22 seats in their kitty. 
With bagging 22 out of 31 seats, Congress has stamped its authority on DK Shivakumar's turf. 
All eyes were on local body elections before the upcoming bypolls on December 5.
DK Shivakumar was in Tihar jail for 48 days in relation to a money laundering case and was recently released after the Delhi high court granted him bail. Shivakumar had been on a temple run for a week after his release from the jail. However, his temple run looked more like a show of strength and this win for Congress in local body elections proved to be his turf again. Since then DK Shivakumar has been involved actively in party politics on the backdrop of upcoming bypolls.  
Shivakumar, a seven-time MLA in Karnataka, was booked along with Haumanthaiah -- an employee at Karnataka Bhavan in New Delhi and others for alleged offences under the Prevention of Money Laundering Act (PMLA). 
The case was based on a charge sheet filed by the Income Tax Department against them last year before a special court in Bengaluru on charges of alleged tax evasion and 'hawala' transactions worth crores of rupees.
The I-T department has accused Shivakumar and his alleged associate SK Sharma of indulging in transactions involving huge amounts of unaccounted money on a regular basis through 'hawala' channels with the help of three other accused.
Local body elections are taking place in 14 constituencies. It was a matter of pride for the DK brothers and the Congress to win in the Kanakapura local body elections. The Congress unit had resorted to all sorts of measures to win the local body elections in Kanakapura constituency.
Last Updated Nov 14, 2019, 12:45 PM IST