Chandrayaan-3: ISRO shares stunning image of Vikram Lander, recommends 3D glasses for viewing it
ISRO created the image by using the anaglyph technique. Anaglyph is a simple visualisation of the object or terrain in three dimensions from stereo or multi-view images, the space agency said in a post on X.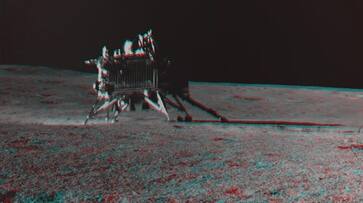 The Indian Space Research Organisation (ISRO) on Tuesday shared a stunning 3D image of Vikram lander which is standing tall on Moon's South Pole. The picture was produced by the space agency using the anaglyph method. According to the space agency's website on X, anaglyph is a straightforward method of visualising an item or piece of terrain in three dimensions using stereo or multi-view photographs.
Taking to X, formerly known as Twitter, ISRO wrote: "The Anaglyph presented here is created using NavCam Stereo Images, which consist of both a left and right image captured onboard the Pragyan Rover." Sharing the image, the space agency said that in this 3-channel image, the left image is positioned in the red channel, while the right image is placed in the blue and green channels (creating cyan).
Also Read | Bengaluru Metro: Survey shows 95% people prefer using Namma Metro over vehicles
The difference in perspective between these two images results in the stereo effect, which gives the visual impression of three dimensions. The ISRO recommended red and cyan glasses to view the image in 3D.
The photograph was released by the space agency barely one day after it put the Vikram lander into sleep mode after finishing ground tests since its August 23 touchdown. Payloads carried out in-situ tests at the new position before the lander was put into sleep mode. The lander receivers were left on, but all payloads were turned off. 
"Vikram will fall asleep next to Pragyan once the solar power is depleted and the battery is drained," the ISRO said, adding that it is hoping for their awakening around September 22. 
Also Read | Not Team India, it's Team Bharat: Sehwag bats for players to wear 'Bharat' jersey for ODI World Cup 2023
Last Updated Sep 5, 2023, 7:24 PM IST