Brutal attack on Swiss tourist couple leaves them hospitalised, Sushma Swaraj demands report from UP government
The Uttar Pradesh Police arrested a suspect over an attack on a Swiss tourist couple in the ancient city of Fatehpur Sikri.
Quentin Jeremy Clerc and his girlfriend Marie Droxz had come from Switzerland when they were stalked and harassed by four men for an hour
External affairs minister Sushma Swaraj said she had sought a report from the Uttar Pradesh government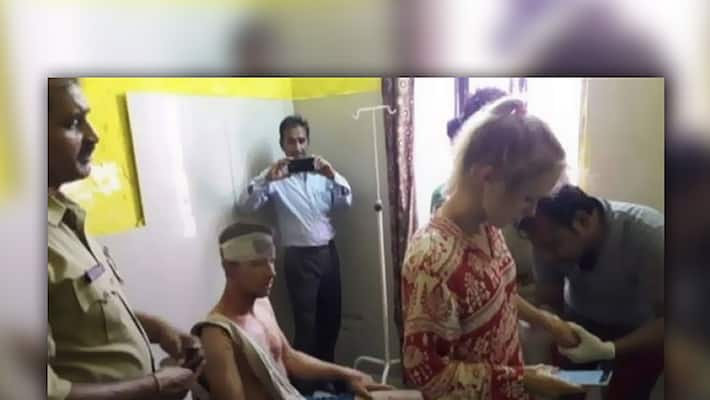 The Uttar Pradesh Police arrested a suspect over an attack on a Swiss tourist couple in the ancient city of Fatehpur Sikri. The couple was left wounded on the road after being chased by a group of four men and attacked with sticks and stones near Agra on Sunday, October 22, a day after they visited the Taj Mahal.
Fatehpur Sikri police station in-charge Pradeep Kumar said the couple was walking along a train track when locals assaulted them. The arrested suspect is the brother of the main accused.
Quentin Jeremy Clerc and his girlfriend Marie Droxz, both 24, had come from Lausanne in Switzerland on September 30 for a tour of Agra. After visiting the Taj, they were in the historic Fatehpur Sikri town on Sunday when they were stalked and harassed by four men for an hour.
Fatehpur Sikri Swiss couple attack: MEA officials arrive at Apollo Hospital in Delhi where the victims are admitted pic.twitter.com/KUz9MkTlHf

— ANI (@ANI) October 26, 2017
The group followed them and tried to strike up a conversation with them. When the duo tried to avoid them the group grew bolder and tried to take selfies with Droxz. Soon, the harassment turned into a full blown assault, reported Hindustan Times.
Clerc is in Delhi's Apollo hospital with a fractured skull and a clot in the brain. A nerve in his ear was also affected, say doctors.
"They followed us for almost an hour, and kept taking our pictures despite our objections," Clerc has been quoted as telling the Times of India.
Fatehpur Sikri police station in-charge Pradeep Kumar said, "Initially they did not want to file a complaint and the case was made out by the police on its own."
External affairs minister Sushma Swaraj said she had sought a report from the state government and a team from the ministry would reach out to the couple from Lausanne, undergoing treatment in a Delhi hospital.
My officers will reach them in the hospital. /2

— Sushma Swaraj (@SushmaSwaraj) October 26, 2017
The arrest comes a few hours ahead of Uttar Pradesh Cheief Minister Yogi Adityanath's visit to Taj Mahal.
Last Updated Mar 31, 2018, 6:46 PM IST