BJP leader unearths scam amid coronavirus lockdown, Congress members steal milk meant for poor
Amid coronavirus lockdown, a shocking incident showed Bengaluru rural Congress gram panchayat members stealing milk that has been allocated to be distributed to the poor by the Karnataka govt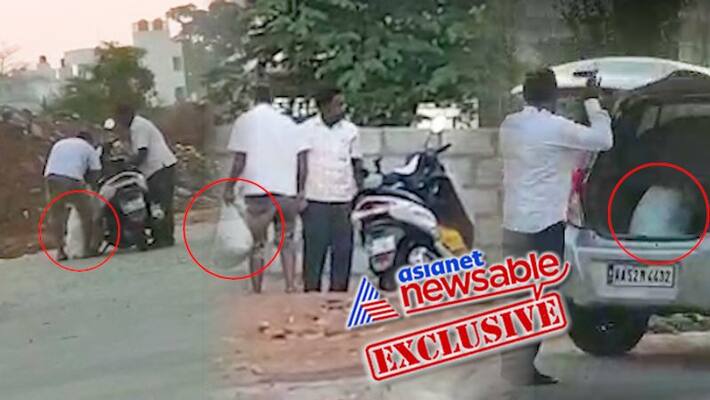 Bengaluru: The Karnataka government started supplying about seven lakh litres of milk everyday to the poor free of cost amid the coronavirus lockdown. This practice was started on April 2 and will continue till lockdown is lifted, Karnataka chief minister Yediyurappa had said. The state government had taken a slew of measures to ensure uninterrupted supply of food grains, vegetables and milk.
But due to some unscrupulous elements, the free milk and food grains have not been reaching the right hands. A video showed Bengaluru rural Congress gram panchayat member Venkatesh,  gram panchayat secretary Narasimha Murthy and an attender stealing milk that was allocated for the poor.  
A shocking incident caught on cam, showed Congress leaders loading milk packets in their respective cars and bikes for their personal use. The incident took place near Machohalli gram panchayat limits, which showed the malpractice of Congress leaders.
600 litres of milk has been allocated to the panchayat limits to be distributed to the poor on a daily basis but only 400 litres were reaching them. This led to BJP leaders noticing something fishy in the entire process.
Here's a video that brings the crime to light.
"

 
A video shot by the Bengaluru rural district BJP zilla panchayat member Uddanaiah unearthed the scam and revealed where the missing 200 litres of milk was going. The BJP leader captured the incident of milk being stolen and later Yelahanka BJP MLA and political secretary to chief minister SR Vishwanath wrote a letter to Bengaluru rural district collector complaining about the malpractice and demanding action against them.
It is a shame that such incidents are surfacing while the poor and downtrodden are struggling for a meal amid the coronavirus lockdown. 
Last Updated Apr 14, 2020, 6:38 PM IST