Bannerghatta's eco-sensitive zone to shrink: Centre's notification faces massive opposition in Bengaluru
Namma Bengaluru Foundation (NBF), activists, NGOs, citizens participated in a mega tweetathon - #SaveBannergatta - opposing the reduction of eco-sensitive zone (ESZ) of Bannerghatta National Park (BNP)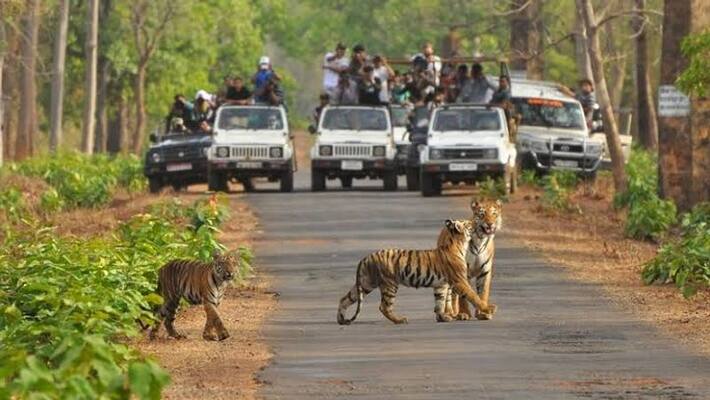 Bengaluru: Bannerghatta National Park (BNP), also known as the lungs of the city has a crucial multi-faceted role to play in the lives of people of Bengaluru. BNP not only serves as the wildlife corridor but is also one of the few green spaces closer to Bengaluru, and is vital to maintaining the ecological balance, reducing the temperature (heat island effect) and pollution and thus enhancing overall quality of life for the people of Bengaluru.
Amid the raging opposition, an order was issued to reduce the eco-sensitive zone here.  A gazette notification issued by the Central government allows the reduction of the eco-sensitive zone by 100 sq km. 
Namma Bengaluru Foundation (NBF) joining hands with activists, NGOs and citizens have come forward to oppose the government's idea of reducing the lung space.  
Namma Bengaluru Foundation, activists, environmentalists and citizens of Bengaluru on Sunday participated in a 'MegaTweetathon' to #SaveBannerghatta. The tweets requested the government to withdraw the notification immediately and the 268.96 sq km ESZ be retained for the sake of Bengaluru and its children. 
Harish Kumar, general manager of Namma Bengaluru Foundation stated, "Bengaluru can't be expanded infinitely, to cater to this greed. We with Bengalureans have been fighting to #SaveBannerghatta and we will continue to do so. We have taken steps legally and are awaiting the court's decision on stay of the gazette. Today's (Sunday) tweetathon re-emphasizes the people's grit of saving our forest and farmers and Bengaluru and its children. We are also planning to submit (Collective Representation - signed petition) to the chief minister, to the MPs and MLAs. As our immediate next step, we will be submitting (Collective Representation) signed petition to the chief minister, MPs and MLAs."
Vijay Nishanth, Bengaluru's tree expert said, "As there was corona lockdown, we decided to go for this route of tweetathon. It's great to see such a response. The central government should take back the notification. Once the corona issue is sorted, we will take protest on ground as entire Bengaluru is against the notification."
Last Updated Mar 23, 2020, 12:47 PM IST