'Aziz Khan Zindabad' or 'Pakistan Zindabad': You Decide
Assam minister Himanta Biswa Sarma shares 'Pakistan Zindabad' video from Silchar. AIUDF rubbishes claim, says slogan raised was 'Aziz Khan Zindabad'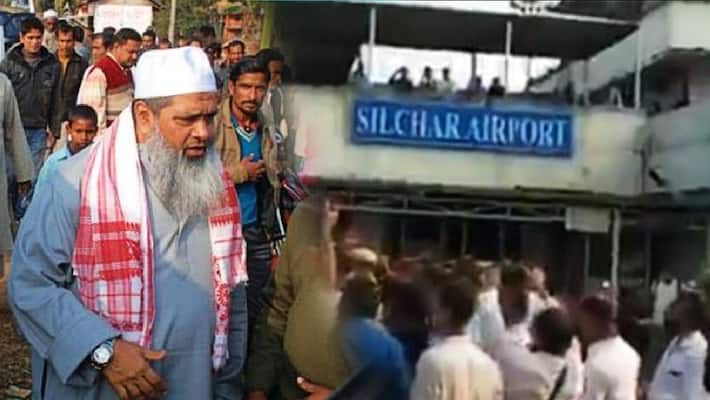 A major political storm has erupted over sloganeering at the Assam's Silchar airport.
At 11:38AM today, Assam minister Himanta Biswa Sarma posted a video on micro-blogging site Twitter to claim that pro-Pakistan slogans were raised at the Silchar airport by supporters of All India United Democratic Front MP Maulana Badruddin Ajmal.
Commenting on the alleged 'Pakistan Zindabad' slogans, Sarma said: "Look at the brazenness of these fundamentalist anti-national people who are shouting Pakistan Zindabad while they welcome MP Badruddin Ajmal. This thoroughly exposes the Congress, which is encouraging such forces by forging an alliance. We shall fight them tooth & nail."
He even asked the Assam Police to investigate the case.
Hours later, the AIUDF put out a clarification -- that the slogan raised was 'Aziz Khan Zindabad' and not 'Pakistan Zindabad'
AIUDF MLA Aminul Islam said, "It is clearly a conspiracy by Himanta Biswa Sarma. Not a single member of AIUDF will shout slogans on Pakistan Zindabad. We are a party under Indian democracy, our President is a Member of Parliament, and we work for Assam's existence."
We let you, dear readers, decide who's right.
Last Updated Nov 6, 2020, 5:27 PM IST