Amid coronavirus scare, Congress workers gather in hundreds to honour DK Shivakumar
Though Karnataka CM BS Yediyurappa has outlaid preventive measures and prohibited mass gatherings amid coronavirus outbreak, hundreds of Congress workers gathered at the KPCC office in Bengaluru to felicitate DK Shivakumar who was crowned KPCC chief.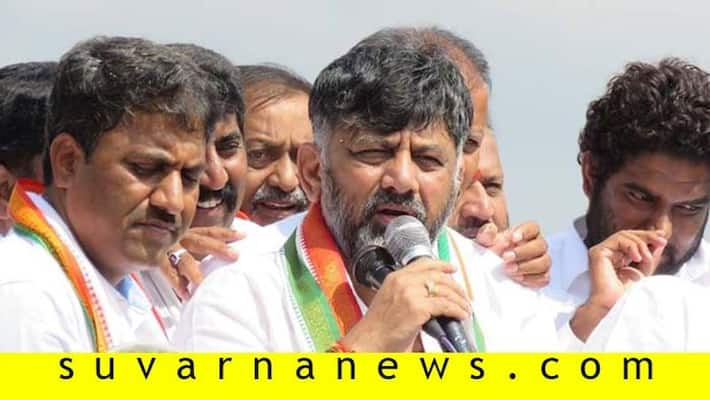 Bengaluru: While many parts of the world have come to a standstill, all thanks to the massive spread of the dreaded coronavirus, with airports, railway stations, malls, educational institutes shutting down and even weddings being postponed, hundreds of Congress workers gathered at the KPCC office in Bengaluru.
The reason that prompted these workers to assemble at the Congress office was solely to felicitate DK Shivakumar who was recently crowned the KPCC chief.
The ban on such large gatherings is a must as the virus spreads quickly and easily among those who have assembled even if one has come in contact with the virus.
This is the reason why Karnataka chief minister BS Yediyurappa announced a slew of bans and prohibited large gatherings in the state for a week.
However, the Congress party has chosen to brazenly ignore the instructions as they have failed to instruct their workers, not to gather on such a large scale.
Even the newly appointed KPCC President Shivakumar is always seen advising others on such tricky issues. Perhaps, it would have been wiser to have asked his followers not to felicitate him with so many people in attendance, are what many people think.
Shivakumar was elevated to the top post last week after Dinesh Gundu Rao resigned from the post following the humiliating by-poll results in which BJP won 13 seats, propelling BS Yediyurappa to hold on to the reins of chief ministership.
While the nation and the entire globe are going through the grip of the virus, celebrations should have been tapered, many opine.
The number of deaths on a global platform has increased to 6500 while the number of positive cases in India stands at 117 with 2 deaths. Maharashtra has the highest number of coronavirus affected victims with 38 cases.
Last Updated Mar 16, 2020, 6:32 PM IST