History repeats? BSP returns to Mayawati statues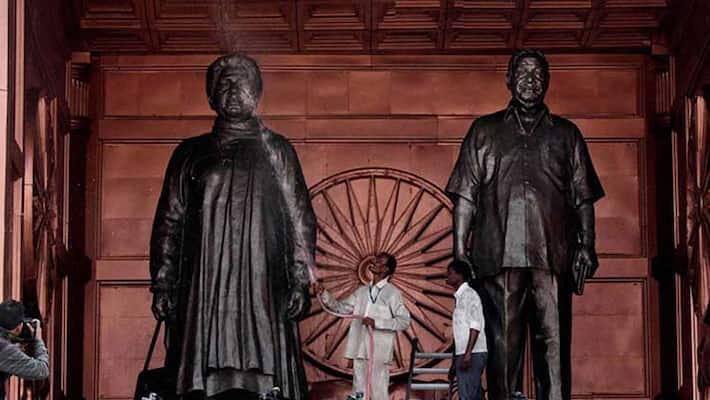 Notwithstanding BSP chief Mayawati's declaration that she will no longer install statues in Uttar Pradesh if voted back to power, her supporters will be banking heavily on her statues for campaigning in the 2017 polls.
A local sculptor has been roped in to carve out some 150 statues of 'Behenji' in her favourite pose to be installed at election offices and other places by BSP candidates in the coming elections for campaigning purposes.
"Altogether orders for some 150 statues have been received and work is on in this regard with the dye being cast," said Amarnath Prajapati, the sculptor who has to his credit several of the statues dotting the state capital installed by the Mayawati government.
"The order for these statues have come in from individuals who supposedly are supporters of BSP candidates," Prajapati said, adding he has been asked to deliver them well before the elections that are due early next year.
"The order for these statues have come in from individuals who supposedly are supporters of BSP candidates"
Each statue will be some three-and-a-half feet high and weigh around 40 kg to ensure they are portable. It will be golden in colour and made of metal and marble. The statue will depict the former chief minister in walking mode, holding the purse in her right hand and a scarf around her neck in her signature style.
Prajapati, however, said that he has not been contacted by anyone from the party in this regard and the orders have come his way by individual buyers.
The BSP chief, who has faced flak for installing her statues besides those of party founder Kanshi Ram at almost all the memorials and structures erected by her during her various stints as chief minister, had recently remarked that she will no longer make memorials or put up statues.
"When I come to power, I will not build memorials, because my work is over. Now I will focus only on development," Mayawati had said in Lucknow on April 14 on the occasion of Ambedkar Jayanti.
She had also defended the decision to install her own statues by claiming that it was the wish of her mentor Kanshi Ram.
"My statue was installed next to his (Kanshi Ram's) as his successor and for dedicating my life to realising Ambedkar's dreams and welfare of Dalits," she had said.
Last Updated Mar 31, 2018, 6:57 PM IST