Explained: The controversy over US cluster bombs for Ukraine
International human rights organizations strongly condemn the use of cluster munitions primarily because a substantial portion, reaching up to 40 per cent, of the individual bomblets fail to detonate upon impact. These unexploded bomblets persist on the ground, akin to landmines, and pose a lasting danger to civilians, potentially lasting for years or even decades. Defence Analyst Girish Linganna explains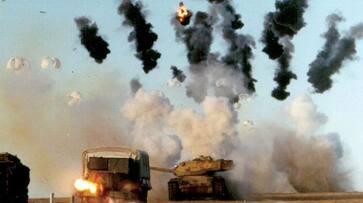 On Friday, US President Joe Biden announced that the United States will provide cluster munitions, also known as cluster bombs, to Ukraine for their military operations against Russia. This decision is surprising considering the US has previously criticized the use of such weapons. Cluster munitions are shells that open in the air and release smaller explosives called "bomblets" over a wide area. They can be fired by artillery, naval guns, rocket launchers, or dropped from aircraft.
The use of cluster munitions is strongly criticized by numerous international human rights organizations due to a significant percentage, up to 40 per cent, of the bomblets failing to explode upon impact. These unexploded bomblets remain on the ground and pose a long-term threat similar to landmines, endangering civilians for many years or even decades.
What Type is Being Deployed?
The cluster munitions being sent to Ukraine are called Dual-Purpose Improved Conventional Munitions (DPICMs). These munitions were originally supposed to be destroyed by the US military. They are fired from 155mm Howitzers and contain 88 bomblets in each container. Each bomblet has a lethal range of 10 square meters. A single canister can cover an area of 30,000 square meters.
Despite Pentagon Press Secretary Brigadier General Patrick Ryder's claim that the cluster munitions have an unexploded ordnance rate of less than 2.35%, the overseeing organization argues that these weapons, which are over 20 years old, are known for having a significantly high rate of unexploded ordnance.
US Policy on Cluster Munitions
The United States has discussed discontinuing the use of cluster munitions in the past. In 2008, former US President George W Bush signed a Defence Department directive, instructing the military to reduce its cluster munition stockpile to a minimal amount by 2018. The aim was to develop safer versions with an unexploded ordnance rate below 1 per cent. However, the Pentagon's efforts to create reliable cluster munitions proved unsuccessful despite significant investments. Consequently, former President Donald Trump revoked the Bush-era order in 2017.
The order maintained a restriction on exporting cluster munitions with an unexploded ordnance rate exceeding 1 per cent. However, it allowed for exceptions if the president deems there is an "extraordinary need" for them and the receiving country commits to not using them in civilian areas.
Cluster munitions have a long history of use, dating back to World War II. However, the United States gained notoriety for extensively employing them during the Vietnam War, even in covert and illegal operations in Laos. Since the war ended, over 20,000 people in Laos, including 40% children, have been killed or injured due to unexploded cluster bomblets.
The United States has utilized cluster munitions in various conflicts, including Cambodia, Grenada, Lebanon, Libya, Iran, Afghanistan, and both Iraq wars. These deployments resulted in the loss of civilian lives as well as casualties among US military personnel.
Is the US Still Employing Cluster Bombs?
The United States' most recent confirmed use of cluster munitions took place in Yemen in 2009. However, they were predominantly utilized by the US government during the invasion of Iraq and in Afghanistan, where they were employed in significant quantities.
Reports indicate that the United States continued manufacturing cluster munitions until 2016. Additionally, there is evidence suggesting that the Saudi-led coalition, supplied by the US, employed cluster munitions in its conflict against Houthi forces in Yemen.
Has Ukraine Used Cluster Munitions?
In 2014, Ukraine allegedly employed cluster munitions against the people of Donbass. According to the United Nations, Ukrainian forces utilized these munitions in densely populated areas in and around Donetsk, which occurred shortly after the signing of the 2014 Minsk Agreement. Ukraine initially denied these accusations.
The United Nations reported that Ukraine employed cluster bombs in civilian areas near the city of Izium during the period of Russian control in 2022. Despite substantial evidence and over 100 witness testimonies confirming these actions, Ukraine released a brief statement denying the use of cluster munitions without directly addressing the presented evidence.
Why the Delivery of Cluster Munitions Now?
Cluster munitions are believed to be included in the US military aid package due to the perceived failure of the highly-anticipated Ukrainian counteroffensive. Despite extensive promotion by Ukraine and the United States, the offensive has encountered significant setbacks and has not achieved significant progress even after more than a month of operation.
During the upcoming NATO summit in Vilnius on July 11-12, the United States and Ukrainian President Volodymyr Zelensky will reportedly urge NATO allies to increase aid and weapon support for Ukraine.
Last Updated Jul 9, 2023, 12:50 PM IST