Is it necessary to release iPhone every year? Here's what Apple CEO Tim Cook said
Apple CEO Tim Cook, in an interview, was asked if it was necessary for the company to launch a new iPhone every year. He said that it is for the people who want it.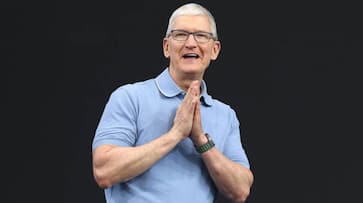 The iPhone is one of the most desired cellphones in the world, and each year, when a new variation is released, people rush to get their hands on it. The iPhone 15 was released this year on September 12 during Apple's Wonderlust event. The phone was released a few days later, on September 22, and customers were spotted queuing outside the newly established Apple stores in Delhi.
That is the scene practically every year when Apple releases a new phone to the market. Apple CEO Tim Cook was recently questioned if the business needed to release a new iPhone every year. While it is true that iPhone lovers stand outside stores, waiting for the new phone to launch, some people wonder why the company launches a new phone every year. 
Also Read | Xiaomi 14 Pro design revealed? Here's what we know so far
In an interview, Apple CEO Tim Cook was questioned why this was the case. In response to the topic, he stated, "I think that having an iPhone every year for those people who want it is a great thing."
He also discussed Apple's strategy of enabling people to exchange outdated iPhones for new ones. Cook went on to explain what happens to these outdated phones, saying, "We then resell those phones if they are still functional." Concerning non-functional phones, Cook explained that Apple disassembles them and utilises their resources to create a new iPhone.
Know all about the latest iPhone 15 
The 128GB edition of the freshly announced iPhone 15 costs Rs 79,900, while the 256GB variant costs Rs 89,900. The 512GB model is priced at Rs 1,09,900. The iPhone 15 has a 6.1-inch display and is available in five colours: pink, yellow, green, blue, and black. Apple has preserved the same design as the iPhone 14 and preceding versions for the iPhone 15. Instead of the standard notch, you get a Dynamic Island notch, which was popular on the iPhone 14 Pro versions last year.
The processor has got an upgrade as the iPhone 15 is powered by Apple's A16 bionic processor. Last year, Apple had used the A15 bionic chipset in iPhone 14 and iPhone 14 Plus while the Pro models got the faster, and better, A16 chip.
Also Read | Jio Bharat B1 with 2.4-inch display, 2,000mAh battery launched; Check price, features & more
Last Updated Oct 14, 2023, 5:03 PM IST