Google Pixel 8 series to debut on October 4: Will it launch in India? Here's how much it may cost
The Pixel 8 series will officially be announced on October 4. The upcoming Google event will start at 7:30PM in India. The starting price of the Pixel 8 could be between Rs 60,000 to Rs 65,000 in India.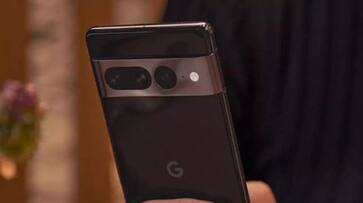 The Pixel 8 series will officially be announced on October 4 and the upcoming Google event will start at 7:30PM in India. Since this is precisely one month away, many of you may be wondering whether or not the new Pixel phones will be available in India and how much they would cost. Let's look at these in light of the recent leaks and speculations.
Google hasn't yet said if the brand-new premium Pixel 8 phones would also be available in India. The Pixel 4, Pixel 5, and Pixel 6 didn't make it to India, but Google did introduce the Pixel 7 here. 
The tech titan said that supply problems were to blame for the failure of the Pixel 6. Although we anticipate Google to introduce the Pixel 8 series to India, there have been no credible rumours until far. The Pixel 7 series' sales results in India may potentially have an impact on the Indian launch.
Also Read | AirPods Pro may not receive any major hardware changes apart from USB-C: Report
Google CEO Sundar Pichai earlier said that the company's Pixel 7 series and Pixel 6 had a positive reaction in terms of sales. Hence, people will have to wait for around a month to know more on this front.
According to various media reports predict that the Pixel 8 and Pixel 8 Pro may cost much more in Europe. Prior to discussing the leaked costs, it is important to note that Indian prices are often a little cheaper than those seen in European marketplaces. The price of the Pixel 8 with 128GB of storage may range from EUR 710 (about Rs 63,370) without tax to EUR 874 (nearly Rs 78,000) with tax. Regarding the Pixel 8 Pro, it is said to have a starting price of $1,235 (around Rs 1,10,220) for 128GB of storage, inclusive of tax.
Also Read | Honor 90 to launch soon, upcoming smartphone listed on Amazon; Check out expected specs & price
The corporation often launches phones in India at the first fixed pricing instead of using the tax structure in Europe. The Pixel 8 is anticipated to cost between Rs 60,000 and Rs 65,000 in India. However, this is only a forecast based on leaks and earlier launches; it is not the actual cost. To recall, the Pixel 7 was announced in India for Rs 59,999 and the Pixel 7 Pro at Rs 84,999. 
Also Read | OnePlus Pad Go tablet in the works? Here's what we know so far
Last Updated Sep 4, 2023, 2:24 PM IST