Did iPhone 15, iPhone 15 Plus survive the bend test? (WATCH)
When it's not overheating, the iPhone 15 Pro Max fails bend tests - like the one performed last week by Zack from YouTube channel JerryRigEverything. Did the vanilla iPhone 15 unlike the Pro Max's fancy titanium, shared the same fate or not?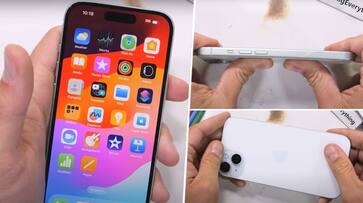 It was widely reported that the new titanium-made iPhones are not as durable as one may think after the iPhone 15 Pro Max failed a recent bend test. It has never happened before in an iPhone durability test for the back glass to break. Let's see how the ordinary iPhone 15 and iPhone 15 Plus with aluminium frames performed now that they have undergone the same test.
The two phones were bent by Zack from JerryRigEverything in the same manner as the iPhone 15 Pro Max. They didn't break, though. He began scratching the phones in the video and said Gorilla Glass on Android phones is less scratch-resistant than the Ceramic Shield on iPhones. 
Also Read | Decoding why Apple iPhone 15 Pro series is facing overheating issue
Well, they do scratch at level 6 and show deeper marks on level 7 of the Mohs Hardness Scale. But the scratches aren't as visible as they are on the Android counterparts. The bend test is survived with flying colors by this model, unlike its way higher-priced relative. The same goes for the iPhone 15 Plus, which is also tested at the end.
In the earlier test, the rear glass of the iPhone 15 Pro Max breaks surprisingly fast. Apple in its product page claims "The Pro lineup is built to last, combining the strength of titanium with the toughest back glass in a smartphone".
Also Read | 'Too hot to touch': Netizens fume over overheating issue in Apple iPhone 15 Pro series
In any event, Apple charges Rs 17,000 to replace the glass, which is modular. That surely cause some new iPhone 15 Pro Max purchasers some trepidation. Having said that, this could also be a one-off case. So, we will be on alert to see if more such cases appear and especially looking forward to Zack's iPhone 15 series teardown videos for more insight.
Last Updated Sep 28, 2023, 4:52 PM IST