'Too hot to touch': Netizens fume over overheating issue in Apple iPhone 15 Pro series
The new iPhone 15 Pro and Pro Max initial customers are claiming that the smartphones become too warm while in use or when charging. Customers say that the back or side of the phone becomes hot to the touch while gaming or when conducting a phone call or FaceTime video chat.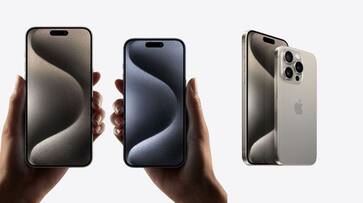 Some of the first owners of Apple Inc.'s iPhone 15 Pro and Pro Max are complaining that the new devices get too hot during use or while charging, a potential setback for the company's flagship product. The complaints have spread throughout social media platforms and online forums for Apple, including Reddit and X. Customers claim that whether playing games, making phone calls, or using FaceTime for video chats, the back or side of the phone gets hot to the touch. The problem is more noticeable for certain users when the smartphone is plugged in to charge.
Apple technical support staffers have been fielding calls about the issue as well. Customers who have an iPhone that feels excessively hot or cold have been sent to an outdated help article. According to the warning, overheating may happen when running power-hungry apps, charging a smartphone, or first configuring a new gadget.
About half of Apple's income comes from the iPhone, so new models are carefully examined for any possible problems. Sometimes issues arise that need to be resolved by Apple through software upgrades or other patches, although the issues frequently go away on their own.
A thorough testing procedure is also in place at Apple to identify any flaws before the iPhone is put into production on a large scale.
Given the powerful CPUs that modern technology uses, it is not unusual for devices to become heated. This time, the concern is if the heat issue continues and gets worse than what people consider tolerable.
The iPhone setup procedure can be the root of the problem or make it worse. Re-downloading all of a user's applications, data, and images from iCloud when they buy a new phone may be a time-consuming and resource-intensive operation. Some users assert that they think certain background-running applications, such as Instagram or Uber, may potentially be to blame for the problem.
The iPhone 15 Pro and Pro Max include a new A17 chip with a more powerful graphics engine. That component, which is meant to help improve gaming performance, could be a contributing factor. The latest iPhone models also have a titanium frame, a switch from the stainless-steel design used since 2017.
The problem follows consumer complaints regarding the FineWoven fabric used in the most recent iPhone 15 covers. Some users have complained that the fabric, which substitutes leather as part of Apple's environmental campaign, is more prone to scratches and dirt accumulation.
Last Updated Sep 28, 2023, 12:20 PM IST