Apple to introduce iPad Air with a larger 12.9-inch display in 2024: Report
Apple is said to be bringing a larger 12.9-inch version of the currently outgoing iPad Air in 2024, as per Ming-Chi Kuo. This would launch alongside the updated 10.9-inch model with a next-generation chipset. Here are the details.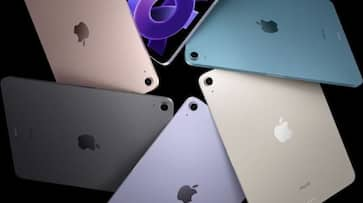 Apple has not launched an updated iPad model in the entirety of this year, but this could be set to change soon as it allegedly refreshes its entire lineup next year.  Additionally, a bigger 12.9-inch model might join the existing 10.9-inch edition of the iPad Air as a potential upgrade.
According to Ming-Chi Kuo, an analyst for Apple, the company plans to release a bigger iPad Air model in 2024. Alongside the revised 10.9-inch variant featuring a next-generation processor, this would be released. It is anticipated that these vehicles will enter major production in Q1 2024.
Also Read | Google CEO Sundar Pichai shares top 5 'why' questions on Diwali; Check out
Furthermore, Ming-Chi Kuo believes that this 12.9-inch iPad model would come with an LCD display rather than the 12.9-inch iPad Pro's tiny LED display technology. Even so, because it would employ an Oxide backplate—which is also found in the iPad Pro 12.9-inch—instead of an a-Si backplate, it would still appear more attractive than the 10.9-inch variant.
Additionally, Kuo mentions in his Medium article that Apple plans to release new OLED iPad Pro models either in the second or late first quarter of 2023. Additionally, it is anticipated that these OLED versions will use the most recent M3 chipset, which Apple unveiled at last month's "Scary Fast" presentation. "There will be an M3 processor and better form factor designs on the OLED iPad Pros," Kuo said.
Also Read | Apple Vision Pro spatial video capture comes to iPhone 15 Pro with new software update
"Outperforming the current mini-LED iPad Pro in terms of display performance and power consumption, the OLED panels for the new iPad Pros will adopt the Tandem design and LTPO backplanes (the same backplanes used in the iPhone 15 Pros)," he continued.
Regarding cost, the 10.9-inch iPad Air may continue to be priced at that level, but the bigger 12.9-inch model would undoubtedly cost more. According to Kuo, Apple may raise the price of the iPad Pro OLED in comparison to the next LCD and small LED versions in order to preserve the pricing difference between the Air and Pro product lines.
Last Updated Nov 13, 2023, 6:46 PM IST